We're an Affiliate. If you use our partner links we earn a commsission at no extra cost to you. Thank you for your support! Read the full disclosure here.
Riders forget that the first that the first thing that will probably hit the pavement when an accident occurs is their hands. It's human nature to put your hands down to protect yourself, so keep them protected.
When you're riding a motorcycle, the most important thing that you should consider is the type of protective gear that you're wearing. Motorcycle riding gear typically consists of a motorcycle helmet and glasses (goggles), armored apparel, motorcycle boots, a protective jacket and some gloves. Even though all of these pieces are important and vital to your safety, ensuring that you have the right gloves also ensures your comfort and overall safety for when you're in an accident as well as when you're cruising down the road.
For cruisers especially, you'll want gloves that are able to offer the best comfort while you're enjoying the ride on your bike. But you'll also want motorcycle gloves that are able to offer the best protection for your hands, should an unexpected accident occur.
But finding the best type of gloves for your cruiser can make your buying process lengthy and frustrating due to al the choices out there. Here are the best motorcycle gloves for cruisers as well as some information to help you during your buying process.
Best Motorcycle Gloves for Cruisers
There are a lot of choices out there, but here's a few we like.
[table id=6 /]
Buying Guide
How to Measure For Motorcycle Gloves
When purchasing a set of new gloves, it's recommended that check out the specific manufacturer's recommendations on how to get your measurements.
As a general rule, do the following:
Use a cloth measuring tape.
Wrap the measuring tape around your hand behind the knuckles
Do not include the thumb
Keep the tape snug (not tight) on your hand.
Measure both hands and use the larger measurement of the two.
Benefits
Provides needed protection
Regardless of how much experience you have or whether you're going on a day trip through the countryside or racing, motorcycle accidents are essentially unpredictable. You can never pre-plan that you won't fall before you go riding.
Accidents occur for a variety of different reasons, that include drivers around you not paying attention, unexpected weather, poor road conditions, your motorcycle malfunctioning or even you making mistakes with your riding in general.
Overall, accidents are bound to occur sooner or later. As they say; There are those who have crashed, and those who haven't crashed yet.
Because of that, it's important that you wear the protection needed in order to remain safe while you're riding. And wearing gloves are one of the most important elements of protection to wear.
It's human nature;
When you first get into an accident, usually the first thing you do is put your hands out in front of you to catch your fall. That being said, you'll need to give your hands the protection that they need to prevent developing injuries from the surface that you fall on.
Not only that, but wearing motorcycle gloves that help to protect your hands can not only prevent your hands from getting injured during an accident, but they can also help to protect your hands during unexpected weather or even in instances where you hit your hands on other surfaces surrounding you.
Let's not forget road debris; there's nothing worse than a rock or a bug hitting your fingers at highway speed.
Ensures comfort
Wearing gloves while you're cruising on your motorcycle also helps to ensure that you're completely comfortable (or as comfortable as possible) throughout the whole ride. Motorcycle gloves help to keep your fingers in the right places and within he right distances from each other to enhance your grip.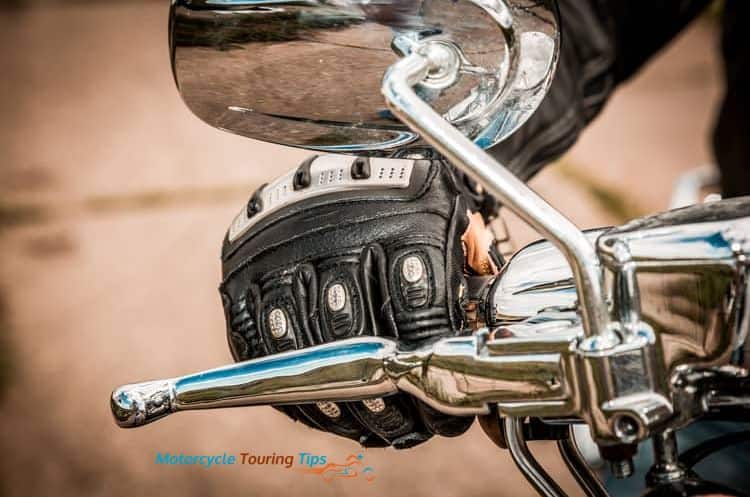 Speaking of grip, most motorcycle gloves are designed so that you can naturally grip your hands around the motorcycle handle bars and over the throttle without having to use your hand muscles to much to resist the glove's natural shape. This is done primarily with material in the palm of the glove to provide some friction.
While it can take some getting used to at first, they can be more comfortable than not wearing gloves plus they provide your hands with the protection and armor that they need when you fall or during inclement weather.
Prevents hand numbness
One of the most common problems that many riders experience is their hands going numb while they're riding, especially if they're going on longer riding trips. Part of this is due to you having to keep your hands in the same position for long periods of time which can create aches or strains in your hands.
If you've spent any time riding at all you've probably experienced hand numbness and a bit of forearm fatigue. The longer your trip is, the more apt you're too having to deal with numbness.
There a few parts to the equation;
Part of the problem is keeping your hand in the same position that keeps nerves compressed coupled with vibration from the motorcycle. It also doesn't help that the ulnar mediation nerve (read more) runs through the palm of your hand.
Adjusting your riding technique by not gripping the handle bars too hard (no matter how good your gloves are) can help you avoid numbness.
Using motorcycle gloves with good padding in the palms can help prevent you from having to deal with numbness by keeping your hands in a comfortable riding position and helping to absorb some of the vibration (depending on how insulated the glove is).
One of the most common problems that many riders experience is their hands going numb while they're riding, especially if they're going on longer riding trips. Part of this is due to you having to keep your hands in the same position for long periods of time which can create aches or strains in your hands.
Wearing gloves can help prevent your hands from experiencing these numbing pains and aches because they help to absorb some of the vibration. They can also help you make sure that your hands are gripping in an equal distribution across the handle bars and throttle. By having this equal distribution of gripping, no one particular part of your hand is experiencing more strain than another.
Additionally, gloves help to compress your hands evenly throughout your whole ride, and they are even capable of adjusting their compression according to the amount of pressure that each spot has.
Gives a good grip
You may notice that when you ride your bike without gloves, your hands can either get sweaty or lose grip for some other reason on the handles. This is not only uncomfortable but can also be dangerous. That being said, wearing gloves can help to prevent your hands from slipping and losing grip, since they feature silicone or other gripping material on the palm and downsides of the fingers.
Improves riding performance
Lastly, motorcycle gloves are extremely beneficial for motorcyclists because they help to improve your overall riding performance. Since you have the gripping needed to securely hold the handles and since your hands are comfortable and fully protected, wearing gloves helps to eliminate worry so that you can ride with confidence (1) .
How to Choose
Size
Gloves are available in a variety of different sizes and styles on the market, which is why you should find a pair of gloves that best fits to your specific hand and the amount of gripping that you usually have on your bike's handles. You don't want gloves that are too small because they'll be too tight and your hands will sweat, negatively affecting the amount of gripping that you have overall.
But you also don't want gloves that are too large, since they risk slipping or falling off and the outer features and design of the gloves won't be as effective when you use the gloves. Overall, you'll want gloves that can fit perfectly to your hand and wrist without causing your hands to sweat.

Comfort
Choosing gloves that accommodate for your comfort while you're riding is also important because if you're not comfortable wearing the gloves, then this may negatively affect your riding performance. Features that affect comfort may be the size, material, breathability, security and the overall construction of the gloves.
Features to Consider Before Purchasing
Security
Considering the type of security a pair of motorcycle gloves offers is important because you'll want gloves that are able to fit securely around your hands and wrist. Features that help keep motorcycle gloves on your hands are usually Velcro straps, bands or in some cases snaps. Some gloves offer multiple Velcro straps to help provide increased security, however most gloves will typically have just have one. Regardless, it's important that you consider the level of security that each pair offers.
Material
The material that the gloves are made out of is one of the most important features, since it ultimately determines the amount of comfort and durability that they have. Most gloves are produced from a leather or cowhide material, since it's able to offer the most breathability and has optimal air flow. Not only that, but leather or cowhide material is great for cruising motorcycle rides because it's durable and can withstand a large amount of wear and tear.
Insulation
Frequent riders consider wreath and you should to. Before setting out, consider the type of weather that you're riding in and then find gloves that can offer the right amount of insulation for that specific type of weather. For instance, if you're riding your bike during the warmer months in summer time, then you'll want to find gloves that offer more breathable features. The lining of the gloves is usually able to accommodate for the air flow of the gloves.
On the other hand, if you're planning on riding your motorcycle during the cooler months of the year, then you'll want gloves that can keep your hands warm. Riding a bike instantly makes the temperature feel cooler than it is when you're standing still. That being said, having gloves that offer insulation is important for keeping your hands warm and gripping the nike handles.
Smart touch
Given the increasing amount of technology that's produced and incorporated into the motorcycle industry, it's important that you consider whether the gloves are capable of being used on touch screen surfaces. Whether you're going to be on your phone at stop lights or whether the bike you have comes with touch screen features, you'll want gloves that are capable of accurately touching screens.
Length of Cuff
When it comes to the length of cuff on motorcycle gloves, there are three basic styles:
Short Cuff – Gloves that end right at or just before the writstbone
Longer length Cuff – These gloves go past your wrist enough to cover your wristbone and give it some protection.
Gauntlet – An even longer cuff that goes past your wrist 2 – 3 inches.
Armor
Lastly, it's important that you consider the specific type of armor and level of protection that your gloves offer. Even though you're just cruising with your bike, you may not think that you need gloves offering protection. But protection is always important, so figuring out how much armor the gloves offers is vital.

High quality armor features includes elements like padded palms, finger inserts and knuckle padding. You should ultimately have the right level of protection for your hands in the places that are more prone to hitting the ground or developing injuries (2).
Best Motorcycle Gloves
1. Reax Castor Leather Gloves (Editors Choice)
Reax Castor Leather Gloves are our top pick and most recommended motorcycle gloves because of the protection provided to your hands, all leather construction, comfort, durability and their optimal air flow.
Reax Castor gloves feature an ergonomic pre-curved that helps you grip the throttle naturally. The gloves have a reinforced palm that not only helps you grip the handlebars but provide protection in a crash. In fact, the palm protection is one of the best reasons to get this glove.

The gloves are all leather with plastic armor attached (to the fingers and knuckles) and offer excellent durability. These gloves come with a leather-wrapped protective knuckle, a durable goat leather palm as well as protective finger inserts. Having these additional protective elements are beneficial when the unthinkable happens.

These gloves are really comfortable and just might be the most comfortable out of the gloves included in this list. They offer an adjustable fit around your wrist that can help to make the gloves most suitable for your hands. They're available in a variety of different sizes, so you can be sure to find the best gloves to fit your hands in particular.

Reax Castor Gloves are all leather but they're breathable and moisture-wicking material that can help you reduce sweating and discomfort while you're riding. The moisture-wicking material is a poly tricot lining that helps give the glove breathable and durable qualities at the same time.
Editor's Note: I personally ride with these gloves and I love'em! They have great palm and finger protection which was a big step up from my deerskin motorcycle gloves I was using.
Pros:
Produced with a breathable and moisture-wicking material
Durable with a large amount of protective armor
Adjustable and available in various sizes
Comfortable gloves right out of the box, minimal if no break in
Cons:
Don't offer the best insulation for cooler weather
2. Sedici Lucca Leather Motorcycle Gloves
These Sedici leather gloves are also highly recommended if you're going for a day trip or a longer ride on your motorcycle because they feature a durable and tight fit that provides you with optimal comfort while you're riding.
More specifically, these gloves are produced with a perforated leather material for overall protection as well as a Thermo-set knuckle that's capable of protecting your knuckles with a memory foam padding.
The perforated leather is great for when you're riding in cooler weather because they provide the insulation that you need to keep your hands warm. Not only that, but they help to increase climate control, allowing you to keep your hands warm during the winter and provide air flow during the summer time.
Additionally, these gloves are fully adjustable in order to fit your hands in particular. They have a Double Velcro system that helps you to keep the glove secure against your hand. There is even a hook-and-loop adjustable cuff that also helps to keep the glove secure on your hand.
The gloves are produced so that you have optimal comfort while wearing them as well. For instance, these gloves feature a gel padded palm that helps to keep your hand from developing cramps while riding and gripping the throttle so hard. Given their simple design, they're great for all types of riding at any time of the year.
Pros:
Composed of an abrasion-resistant leather material
Provides climate control abilities
Double Velcro technology for maximum security
Cons:
Offers a tighter fit than most other gloves for cruisers
3. Alpinestars SMX-2 Summer Motorcycle Gloves
If you're looking for gloves that offer the most protection, then these might be what you're looking for. Alpinestars Summer Motorcycle Gloves feature a new design that some rider find to be more durable. They come with a multi-panel main shell that incorporates full grain leather as well as 3D mesh material for additional airflow.
Most gloves that focus more on durability and not as much on comfort. But these gloves are great for riders who just like to cruise since they focus on protection, durability as well as comfortability.
In addition to the full-grain leather material as well as the premium quality suede palm, these gloves have an innovative new microfiber and PU grip insert that help to make sure you can position your hand to grip onto the bike in the most comfortable design.
Alpinestars gloves come with synthetic leathers inserts in the palm and the fingers to make your hand feel like it's not even wearing a glove while gripping onto the throttle. To accommodate for even more comfort than the material and fit, these gloves provide maximum airflow for longer rides. More specifically, they have ventilated finger sidewalls that allow air to ventilate throughout the whole entire glove and prevent sweating and slipping.
Pros:
Focuses on comfort and durability
Features a wide Velcro design for high security
Cuff and thumb have EVA foam
Cons:
Only available in a limited amount of sizes
4. Joe Rocket Classic Mens' Motorcycle Riding Gloves
Joe Rocket's classic motorcycle gloves will go a long way to contributing to your riding comfort due to their design and construction materials.
The gloves are composed of a supple drum dyed cowhide for the outer material. And they feature a pre-curved design that's able to help you comfortably keep your hands gripped to the motorcycle's handlebars. This includes hinged fingers that makes gripping easier and give you the ability to confidently and securely grip your fingers around the handles.
They even have a flex-wrist technology that helps you to easily move your wrist in whichever direction you need. The palms of the gloves are also high quality and contain a gel material for cushioning and provide a thick fit. They're able to fit a wide range of different sized hands and come in a variety of sizes.
Unlike the other gloves on this list, these gloves also have a sleek and more modern appearance, and feature a charcoal reflective logo on the outer portion of your hand.
Pros:
Composed of a cowhide outer material
Flex-wrist for easy on and off
Comes with a charcoal reflective logo
Cons:
5. Budget Choice: Sedici Castro Gloves
Secidici's Street sport gloves feature a short cuff that can be used in two to three season warm to hot weather. These gloves are a bit more street and/or sport oriented but still work great when your out on the open road.
The Castro glove is designed to be lightweight and flow air through the glove. That being said, these gloves are not going to be ideal for cold weather. At under a $100 these gloves are a good budge choice if you're looking to get started or nice back up pair of motorcycle gloves.
Features of the Sedici Castro motorcycle gloves:
Leather semi-aniline throughout the glove for abrasion resistance.
Perforated to provide good air flow and climate control
Increased finger protection with molded carbon fingers for better protection
Leather and Clarino palm that's breathable, flexible and provides strong abrasion resistance.
Pros:
Gloves fit well
Good tactile response while using motorcycle controls
Excellent air flow
Touch screen capabilities
Good price point
Cons:
Warm/hot weather gloves, no extended seasonality
Short cuff
Conclusion
Overall, each of these motorcycle gloves offer a wide variety of benefits that are specific to each product. Some of them offer features that are more tailored to providing you the best comfort while you're wearing them, while others are more capable of offering features that are more focused on providing the best protection and support while you're riding.
Even though each of these products are able to offer beneficial features, the Reax Castor Motorcycle Gloves are the most suggested for you specifically as a cruiser. They offer optimal comfort because of the type of material they're produced with as well as their ergonomic pre-curved fit. Not only that, but they're durable and able to offer the most amount of protection for cruiser gloves.
To offer the best protection, Reax Castor gloves have a leather-wrapped protective knuckle as well as TPR protective finger inserts. Additionally, they even feature a high density flexible palm pad insert. Because of that as well as their breathable design, these Reax Castor Motorcycle Gloves are classified as the best motorcycle gloves for cruisers.