We're an Affiliate. If you use our partner links we earn a commsission at no extra cost to you. Thank you for your support! Read the full disclosure here.
I've purchased a lot of full face helmets over the years and if you go too cheap you not only sacrifice safety, but comfort. Today I'll give you my HJC IS-33 II helmet review.
This helmet's been around a while, but I'm still rocking it in 2020 and beyond!
I have come to be pickier about the motorcycle helmet I use after getting in some serious road time over the years.
Click to check out this motorcycle helmet on Amazon, differant sizes and colors are available.
Everything from the type of motorcycle helmet (full face, modular, three quarter etc) to comfort and cost.
If you go too cheap on your helmet, the first thing that will happen is the padding materials crush quick (as in only a few rides) making the helmet loose and unsafe.
You can check out our list of best motorcycle helmets for cruising to get a quick rundown of safe affordable motorcycle helmets.
More importantly, if your helmet fits too tight and wrong, you're going to get headaches.
Miserable ones, believe me.
After a lot of cheap helmets and headaches I have come to really like the HJC IS-33ii motorcycle helmet available on Amazon.
It's well built and comfortable at a third of the price of other motorcycle helmet manufacturers.
At this point, I've had the helmet for quite a while and have been on several weekend trips with it.
It's comfortable, light weight, fits snug (but not tight – no headaches!), has better field of vision than my previous modular helmet and good ventilation. I can actually feel the air moving through the helmet.
This motorcycle helmet is at a great price point where you're going to get quality materials, but not break the bank with a huge price tag (I'm looking at you Shoei).
This helmet also accommodates an intercom system nicely, with pockets for intercom earpieces and plenty of room for a boom mic.
This is a no brainer, but I'll mention it anyway – This motorcycle helmet is DOT certified.
Cheap Full-Face motorcycle helmet vs Quality helmet
I'll start by classifying a cheap helmet as anything under $100.
Keep in mind we're talking full face and three-quarter helmets, not brain buckets (half helmets).
If I had a dollar for every cheap full face helmet I've purchased over the years… I would have about $15.00.
Not that I would be rich, but that I've gone through a lot of helmets trying to find the right one. Helmets are supposed to last a while.
At one point in my garage I had around 4 or 5 helmets that I purchased from a major chain cycle shop (I won't name them).
I kept returning to the same major cycle shop chain, buying their store brand of helmet in different styles and sizes, both full face and modular helmets trying to find the right one.
Definition of insanity: Doing the same thing over and over expecting a different result!
I was never really comfortable, and had a hard time pinning down my size with the cheaper overseas helmets.
The helmet would either fit too loose or worse, too tight. Usually too tight.
How full face and modular motorcycle helmets cause headaches
As you've read earlier, I came to know and enjoy the IS-33 II after experiencing headaches while riding due to an improper fit of the modular style helmet I bought.
The first way a motorcycle helmet while cause you a headache from an improper fit is pretty straightforward;
If the size is too small it's going to compress or squeeze the crap out of your head. If you're on a long motorcycle ride and spending a lot of time in the saddle, you'll get what I call a 'helmet headache'.
It'll creep up on you as you put on miles, then make you miserable.
The second way an improper fitted modular/full face helmet can cause a severe headache is by compressing the facial area near your cheekbones.
On one ride (to Sedona, Az), the motorcycle helmet I was wearing caused me one of the worst headaches while riding I had ever experienced.
This was not the first time I had experience this kind of compression on my face (and resulting headaches) but it was the final straw that pushed me to change my motorcycle helmet.
I decided to not only switch my style of motorcycle helmet from a modular to an open face helmet, but after some research the HJC IS-33 II in particular.
I'm not saying all full face and modular helmets are bad here.
What I am saying, is make sure that your helmet fits your head well or you're not going to enjoy the ride.
When purchasing a motorcycle helmet, be aware of head and facial compression from a helmet that fits poorly and may be too small.
After riding with the HJC IS-33 II no part of the helmet comes into contact with my cheekbone area, so nothings pushing on my face. Very comfortable.
Buying a motorcycle helmet online vs in store
Here's what I finally figured out over the years with all of my trial and error.
I always would buy my helmets in store so that I could try them on. They seemed ok, I'd buy them but didn't figure out the problem until a ride or two.
But here's the problem;
Once you take that helmet out of the store and use it just once, good luck trying to return it.
I know every store is a bit different, but my experience is that once you take the helmet out of the store and wear it just once, you're stuck with it.
Now that I know my size I just shop online. If you choose to buy through Amazon, everyone knows that they'll honor it and you can send it back.
In fact, I would rather buy a helmet online anymore because most online retailers have no problems with returns, and certainly not Amazon.
Full face modular helmet vs three quarter helmet
I was always a full face or modular helmet guy and for the most part I still am. If your going to be out on the highway for long distances I would recommend you get yourself good protection.
There's nothing wrong with traveling long distance with a half helmet.
But one of the things that I did rethink a bit when I purchased my HJC was the use of an open face (or three quarter) style helmet.
The biggest thing was the field of vision.
I have limited range of motion in my neck, and it seemed like I had to strain a bit more with my modular helmet as well as losing some peripheral vision.
With the IS-33 (and probably most open face helmets generally) I have much better peripheral vision. My overall experience in moving traffic as well as at stop lights has been that I don't have to move my head as much to see the traffic that I need to see.
Make sure that if you're going to use a three quarter style helmet, that you have a face shield. While a face shield isn't as sturdy as a full face helmet, it will protect face from common problems like wind burn, bugs and debris.
Available HJC IS-33 II Helmet colors
I'm 'one of those guys' that like to have a helmet that matches the color of the motorcycle.
Normally I wouldn't care, but the bike I have now is the color I've always wanted. I also told myself that that the next time I get a new helmet, I wanted it to match my motorcycle or at least come close.
This particular helmet line from HJC doesn't have a wide selection of colors, but it comes in enough colors that should cover just about all the bases for everybody's taste.
Most of these colors are neutral like black, white and gray which will go with just about any color scheme you've got going on your motorcycle.
The HJC IS-33 II was the only helmet (that I found its price range) that comes in a wine red that was at least close to matching my motorcycle.
Trying to match shades of red gets a little hard when your looking for a motorcycle helmet. As it turned out, I had a friend who owned an HJC motorcycle helmet who has the same Goldwing that I do (year, color etc) and I was able see how well HJC's wine color would match my bike.
Not perfect (it never is) but a good color match that I liked.
HJC IS-33 II helmet color list:
Wine – My favorite of course
Black – gloss and flat varieties
White
Anthracite – This is basically a gun metal gray color. Looks sharp.
Black and Orange – A black helmet with orange stripes
Take a look at the colors on Amazon.
HJC IS-33 II Helmet construction
This motorcycle helmet is constructed out of a polycarbonate shell like most motorcycle helmets that is lightweight. To me it definitely feels lighter than other helmets I've owned.
You can notice how light weight it is when you pick it up and compare it to another helmet (my gal pal has a modular style Fulmer helmet) but that's not really where weight counts.
Part of the reason this helmet will be lighter compared to a full face or a modular style helmet lies not only in what it's made of, but also because it's technically an open face helmet.
Not as much plastic and material hanging in front of your face.
For me, weight counts when you've been on the road for while and get a bit fatigued. Due to some neck issues, my neck can get fatigued if I've been grinding out for long stretches.
With the IS-33 II motorcycle helmet I haven't noticed any fatigue other than I would experience anyway.
Here are the basic stats on this helmet:
Lightweight polycarbonate outer shell
Aerodynamic design – This really seems to help the air flow for this motorcycle helmet
Large eye port for good visibility. This was one of the first features I noticed about this helmet when I rode with it. I can see well in traffic and on the highway.
Single density EPS liner. This is the liner between the outer shell and inner fabric that helps absorb impact.
HJC's 'Advanced Channeling System' (or ACS) that helps ventilate the helmet by providing flow through ventilation. It works – this is the first helmet I've really noticed ventilation.
Has a one touch integrated smoke tinted inner sun shield.
Earpiece pockets – Do you have an intercom system? The IS-33 motorcycle helmet has pockets inside the helmet to hold an earpiece. This is handy, because a lot of cheaper helmets don't have this feature.
With the last cheap motorcycle helmet I purchased, I had take the helmet apart and scrape away some of the foam or EDS liner to seat the earpieces for my intercom.
The material that HJC uses inside the helmet helps to control moisture and is antibacterial. It's designed to be removed, although I haven't had occasion to remove it. Took clean my helmets, I usually just spray a little Fabreeze in it.
Designed to be worn with sunglasses. If you like to wear sunglasses while you ride this motorcycle helmet is set up for. Personally, I have not used this feature.
Sizes available for the IS-33 II helmet
Here is the list of sizes that are available for this helmet:
X-small
Small
Medium
Large
X-Large
XX-Large
2X-Large
Plenty of variety to fit just about anyone's melon.
Face shield for this HJC helmet
The helmet comes with two styles of sun shields.
There' an inner retractable smoke colored sun shield and the exterior face shield that is clear in color.
No matter what motorcycle helmet I've ever purchased they always come with a clear face shield, which I'm not a big fan of.
The nice thing about this motorcycle helmet is that it does feature a quick slide shield replacement system to swap out the shield. This basically means that there are no tools required change out the face shield.
While most motorcycle helmets do have a feature similar to this, not all do.
Replacing the Face Shield
Be aware that if you want a mirror styled sun shield that you see in the pictures on my helmet, you will need to purchase that separately.
I like having a mirrored sun shield to not only block the sun, but it also keeps me from having to wear sunglasses while I ride, which can get annoying after a long time.
The face shields for the HJC IS-33 II come in several colors, but I like silver because it goes with about anything.
Be sure that if you order a face shield for this motorcycle helmet, you order one for the IS-33 II and not the IS-33. They are two different helmets and one face shield will not fit the other.
Built in intercom and Headset versions
There are some newer versions of the HJC IS-33II that have built intercom systems for Honda and Harley Davidson motorcycles
These weren't available when I bought my helmet or I would have purchased the Honda version of this helmet
What's the difference between the Honda and Harley intercoms?
Honda uses a 5 pin system for their intercoms and Harley uses a 7 pin system.
Here's the links for Amazon to each:
5 pin system for the Goldwing
7 pin version for Harley Davidson
HJC IS-33 II Pros and Cons
Obviously, I like this helmet after all the hell I've been through with finding a comfortable motorcycle over the years.
Here's my list of Pros and Cons that I like and disliked about this motorcycle helmet.
Pros:
Very Comfortable. Headaches are gone, I'm riding in comfort.
Good visibility – I have no trouble seeing traffic both stopped and while moving.
HJC's ventilation system does work. If you're traveling through cooler air, you'll feel it.
It's easy to swap the face shield. I always swap my face shields out for the mirrored style, so I'm that it's easy. It also makes it easy if you need to just replace a shield that's scratched.
The Cons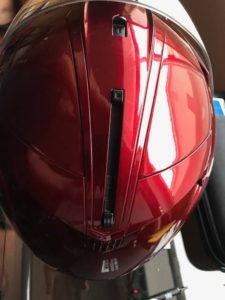 I'm not a big fan of the mechanism for using the drop-down sun visor.
The lever is located on the top of your head but towards the rear of the helmet that requires you to push it forward to activate it. This may cause you to fumble around with it longer than you should be while on the road.
Fumbling around with your motorcycle helmet distracts your attention from the road.
You can get around this by simply not using the drop down visor feature of the helmet. In fact, I think they should just remove it.
This helmet can be a bit noisy. Not unbearable, but noisy compared to other more expensive motorcycle helmets.
HJC IS-33 motorcycle helmet questions
Here are some questions that people have had about the HJC IS-33 II motorcycle helmet
Q: Is the head shape on this helmet long, intermediate or round oval head type?
A: This motorcycle helmet is generally considered a round head type but overall comfortable.
Q: Does this helmet come with a detachable sun visor?
A: There is an inner and outer sun shield that are both removable, but does not come with a peak or bill visor.
Q: Can you install ear speakers?
A: Yes, this helmet has pockets for communications or speakers where the original IS-33 did not have this feature.
Conclusion
There are a lot of options out there for motorcycle helmets.
It's very tempting to buy a cheap helmet under $100 and hit the road, but more often that not your going to wind up spending more money getting something you should have purchased in the first place.
Do you need to spend $300 and up for a good helmet?
That's the other thing that's nice about this helmet. It's good protection and comfort, can be outfitted with what you want without spending a ton of cash. It's a good mid-range priced helmet.