We're an Affiliate. If you use our partner links we earn a commsission at no extra cost to you. Thank you for your support! Read the full disclosure here.
If you haven't made the trip to Homosassa Springs Wildlife Park your missing out. We recently took a weekend motorcycle ride and wandered into this place by accident and we're glad we did.
And of course, with any motorcycle ride getting there is half the fun.
Where is Homosassa Springs Wildlife State Park?
Homosassa Springs Wildlife State Park is located in Homosassa Springs, Florida in the southwest corner of interstate highway U.S. 98 and West Halls River Road.
Video: Just A Walk In The Park
The video below will give a quick walk through of the park and give you an idea what to expect. Check it out!
So, What's the Park like?
The park itself sits on quite a bit of property (around 100 acres or more) that is fenced in and divided into two sections, covered in plenty of forest and greenery.
The first section or U.S. 98 entrance is referred to as 'Friends of Homosassa Springs Wildlife Park' and houses a gift shop, bathrooms and a large sitting area if you'd like to stop and eat a snack or just rest.
Just look for 'Bubbles' the giant grey manatee statue out in front of the building. The only way to miss Bubbles is by having your eyes closed.
Upon entering you'll be greeted by a couple of park rangers (very friendly) that will give you the scoop on navigating the park and what's available.
One of the first things they will tell you is that there is a 15-minute boat ride or jungle cruise that leaves about every 20 minutes that takes you to the other section of the park where all of the animals are.
The boat ride is free and takes you on a canal that winds through the trees and lets you off at the Ellie Schiller Homosassa Springs Wildlife State Park, the second location (on fishbowl drive if your looking at a map) where the animals are.
The wildlife park hosts a wide variety of animals that include a wide variety of birds, reptiles and even a hippopotamus! Of course, the star of the 'show' (I'm using the term show loosely – there are no animal shows at the park) are the manatees.
In fact, if you a bird lover, there are plenty of different species of birds for you to watch for. Even if your not a bird watcher per se, there are plenty of interesting species of birds to check out.
What I think is awesome about the park is not just educating the public about animals. The park also serves as a sanctuary for injured animals to be nursed back to health (and then  released) and animals that can't go back to the wild.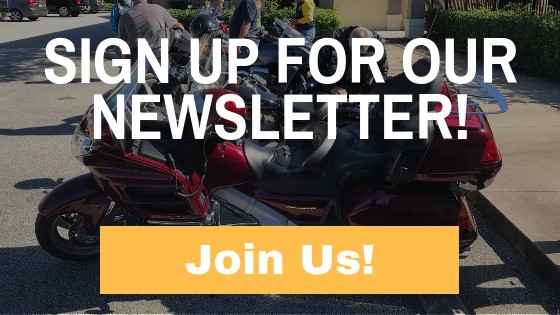 Shortcut to see the Wildlife
If you're pressed for time or you don't want to take the 15 minute canal ride you can get right to the animals by avoiding the first entrance and driving to the second entrance that's located on West Fishbowl drive.
This entrance is officially called the 'Ellie Schiller Homosassa Springs Wildlife State Park' and really is the 'main' entrance if you want to get right to the wildlife.
This entrance houses the Wildlife Café and has an area where you can relax, cool off, visit another gift shop and is the primary entrance to the park.
Whether you take the canal ride or drive/ride there directly, this is where you pay to enter the park to go and view the wildlife.
At the time we visited the park, our entrance fee was $13.00 for adults (not bad) and there were discounts available that we weren't able to take advantage of, but you might be able to.
The ranger that is selling tickets may ask for an extra donation when you pay. This extra money is of course used to help the animals in the park more directly than straight ticket sales.
A worthwhile cause in my opinion.
Some of the amenities at Homosassa Springs Wildlife Park are:
Boat tours
Hiking
Bird watching
Tours
Nature Trails
You can get more info prices, park times and amenities at the Homosassa Springs Wildlife Park website. You can also download a park map if your trying to pre plan your ride or trip.
How much does it cost to go to Homosassa Springs?
The Ellie Schiller Homosassa Springs Wildlife park is open year-round from 9 am to 5pm in the afternoon. Price to attend the park is $13 for adults and $5 for kids aged 12 and under.
How to get to Homosassa Springs Wildlife Park
Getting to the wildlife park really couldn't be any more straightforward, as the first entrance (The 'Friends of' entrance) sits right next to U.S.98, which runs right through the town of Homosassa Springs. See the above map.
No matter if your heading north or south through Homosassa Springs on U.S. 98 trying to find the place, just keep your eyes open and look for Bubbles the very large manatee statue out front of the main park entrance.
Trust me, you can't miss it!
Bubbles marks the entrance to the first main park entrance (I'll call it the 'Friends of' entrance) where you'll find a gift shop (of course) restrooms and plenty of information to get you started.
To get directly to the West Fishbowl drive location, take U.S. 98 and turn west on to West Halls River Road.
Once you've turned on to W. Halls River Road, you'll be making a left (going south) on to West Fishbowl Road. You won't be traveling far and you'll see the entrance on your right-hand side.
The parking entrance will be on your left-hand side directly across the street.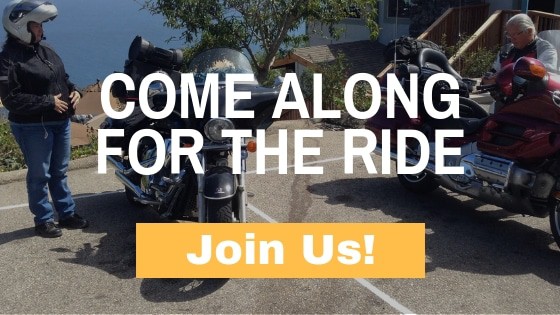 What About Parking?
Both sections had plenty of parking available, but I would estimate that the 'Friends of' entrance on U.S. 98 had more paved parking.
Both parking lots had dirt lots for 'overspill', but when riding a motorcycle, you'll want to steer clear of the dirt parking lots. Unless you love dropping your motorcycle (said no motorcyclist ever).
The 'Ellie Schiller' entrance had a bit less parking (although still quite a bit) and looked a lot tighter to get in and out of. Because of the close quarters in this parking lot, you need to be on your game and pay attention to drivers who won't be able to see a motorcycle as their backing up.
We visited early on a Sunday morning and parked the motorcycle at the 'Friends of' entrance and took the boat ride.
There were no fees for parking, everything was first come, first serve.
(a brief) History Of The Wildlife Park
The history of the Ellie Schiller Homosassa Springs Wildlife State Park operating as a tourist attraction dates back to around the 1900's when the railway ran alongside what is now Fishbowl drive.
In the 60's and 70's exotic animals were brought in to expand the park as a nature attraction and the park was also the home of 'Buck' a black bear who was a stand in for the television show Gentle Ben.
Our Motorcycle Road trip to Homosassa Springs Park
Wanna hear something funny?
Like many of our weekend warrior motorcycle rides, we didn't set out to go to the wildlife park in Homosassa Springs and didn't really know it even existed.
As it often happens, my wife will find something cool to see at the last second, then we decide to ride there.
That's generally the way we roll;
Come up with a general plan and check the map as we go. Usually, my wife finds something interesting while doing searches on her phone while we're on the road.
We started our ride on Saturday and didn't get to Homosassa Springs wildlife park until Sunday.
The park actually was the last stop on a weekend long ride through the Florida countryside to visit relatives that live on the gulf side.
A quick look at our itinerary for our weekend warrior motorcycle ride:
Saturday
Meet with friends in Middleburg, FL
First Stop: Ride to Satchel's pizza in Gainesville, FL
Second Stop: Devil's Den State Park
Third Stop: A random unplanned roadside tourist trap place
Fourth Stop: Done for the day at a relative's house
Sunday
First Stop: Homosassa Springs Wildlife Park
Second Stop: Fuel and snacks
Third Stop: Back Home
Day 1: Starting the Motorcycle Trip
We started our trip in the Jacksonville Florida area and met up with friends to participate in a Saturday morning motorcycle ride to Gainesville. Our plan was to ride with our friends and have lunch at a pizza joint in Gainesville, then we would leave them and ride on to some destinations we had picked out for the weekend.
Everyone was talking about how good the pizza place was supposed to be where we were going – I was banking on it because I hadn't eaten breakfast!
After meeting our friends in the small town of Middleburg, we were kickstands up around 10:00am and on our way to Gainesville.
When rolled out we had what I call 'Goldilocks Weather' – Not too hot, not too cold but just right! A beautiful morning for a ride through the country.
First Stop: Satchel's Pizza, Gainesville Florida
Our first stop was at a little eclectic joint called Satchel's Pizza
located in in the southeast side of Gainesville not far from the University of Florida campus (Gator country for you college football fans).
It's a hipster/bohemian style, artsy pizza place with a lot of art work where the owner has taken everyday items and repurposed them into Sculptures and other art.
Where is Satchel's Pizza located?
Satchel's Pizza is located at:
1800 NE 23rd Ave, Gainesville, FL 32609
It will be on the left hand side of 23rd Avenue as your traveling west. It's there's a lot of traffic it can be tricky pulling into the parking lot so be careful.
Entering the parking lot
If you're coming into Gainesville on State Route 24 like we did, you'll be making a turn and heading west onto North 23rd avenue where Satchel's is located.
As your traveling west down North 23rd, Satchel's will be on your right side.
Keep this in mind;
This is a busy street and turning into the parking lot and it comes up pretty quick, so you need to watch traffic behind you to prevent getting rear ended as your slowing down to make the turn.
Getting into the parking area is pretty tight and you'll want to pay attention to any vehicles that are leaving while you're trying to pull in, which can create a traffic hazard.
The parking lot itself is also narrow with parking on the right and left as you enter. Be aware of any vehicles that may be trying to back out of their parking spot as you enter, there's not a lot of room to maneuver (and tricky if you're riding a motorcycle).
If the place gets busy (and I assume it does) it would be easy for traffic to back up to the street.
Our visit was on a Saturday at around 11:00am. There weren't too many people at the restaurant, so parking was not a problem.
The outside patio and eating area
Outside of the restaurant Satchel's features a nice patio and eating area. There are places to sit if you're on the waiting list and a couple of tables if you'd like to eat outside. The area is nice and shaded which is a must if your going to be standing outside in hot Florida weather!
The coolest outside dining feature is the old blue ford van that's visible as soon as you see Satchel's. They've gutted the inside and outfitted it with a table and a few chairs. It seats somewhere around 4 people.
What Kind of Food Do They Serve
Generally speaking they serve pizza's (they have a wide variety of toppings), calzones and some desert items (cannoli). It's a pizza joint, so the main dish seems to be pizza that's made fresh. They also known for the fresh salads that they serve as well.
What I Had For Lunch
We were told very specifically by our friends (who had been to Satchel's before) to get the pizza and salad combo lunch special (about $7.00 when we visited), which is exactly what we did.
The salad came out first of course and was really one of the best salads that I'd had in while. Lots of greens with some apple and other ingredients thrown in that make it a lot more savory than just your standard "bag 'O salad" that most restaurants serve.
The thing is;
If my wife enjoyed the salad, more than likely you will to. My wife is a very meat and potatoes gal and not much of a salad person at all. When there is an option for 'salad or no salad', it's 'hold the salad every time'.
Ok, so what about the pizza?
When they brought out the pizza(s) I understood why our friends told us to go the lunch special.
The pizza slice that serve was HUGE and but was the right amount for just one person. It's essentially a New York style pizza slice, which means that it's the equivalent of two to three slices of pizza from anywhere else.
Satchel's has a lot of choices when it comes to what you can have on your pizza, but for my wife and I we just stuck with the 'ol pepperoni and cheese. Can't go wrong with that.
We ordered a thin crust (I try to minimize how much bread I eat) and overall, the meal really hit the spot after being on road while.
Things to know about Satchel's
Overall, there are not a lot of menu choices on the Satchel's menu other than what I've mentioned previously.
For example, you won't find a huge selection of sandwiches, wings etc when your dining here.
For, me that's fine. I'd rather a place to do couple of things really well that a bunch of food mediocre to poor.
Here's the biggest thing you need to know –
Bring Cash!
Satchel's does not accept any other form of payment than good 'ol fashioned greenbacks.
It is a bit of a pain, but they do have an ATM machine in the restaurant, so you can get cash if you need to. However, it's best to have cash with so you can avoid the ATM fees.
Leaving Satchel's and Getting Back On The Road
After having an awesome lunch with friends, we walked to the back of the property and checked out the Lightning Salvage Yard. Lightning Salvage looks to be a nightspot/bar area and live performance venue.
It wasn't open, but there are more cool sculptures and camera fodder to check out before you leave. Lot's of cool stuff to see, so take a couple of extra minutes to check it out.
We said goodbyes to our friends, fired up the motorcycle, and then it was off to our next destination for the day.
Second Stop: Devil's Den State Park
After riding for about 40 minutes, our next stop was to Devil's Den State Park to check out the caves. Devil's Den is an underground spring that's inside a cave where the water is warm all year round and crystal clear.
There is a set of stairs that goes into the cave to a platform from which swimmers can enter the water.
When we arrived, we found out that unless we were going to swim, scuba dive or snorkel that we were not allowed to enter the cave and walk down the platform to check out the cave.
Total bummer. We were hoping that we'd at least be able to go into the cave.
Since we couldn't go down the platform, we walked around the large above ground pond and checked out the area.
If you're planning on camping and doing water activities, this is nice area and what we could see was cool. They do have scuba and snorkel equipment on site that you can rent so you don't have to bring your own gear.
After taking a break and checking out the area, it was time to jump back on the motorcycle and continue on.
Third Stop: Unplanned Random Tourist Trap
After leaving Devil's Den the plan was to press on to Spring Hill, Florida to visit family and stop for the day.
There was only one problem –
We passed a local vendor who apparently specialized in selling beachy things and seashells. My wife is a sucker for that stuff!
Anyplace that has massive plastic sea life statues deserves a second look!
So guess what?
I was told that I had to make a U-turn and had to go back.
We browsed all of the wares that they had for another hour or so and then it was back on bike.
This place had the dreaded dirt parking lot, so I had to extra careful about maneuvering my motorcycle.
They had quite the collections of all kinds of random items not the least of which was the giant plastic great white shark.
Thankfully, we were riding a motorcycle, which meant that she couldn't spend any money.
Or if she did buy something –
It would have to be something very small she could pack.
After a lot of browsing and petting the store cat, we mounted up to get back on the road
Something tells me that we will be back with a pickup truck at some point.
Fourth Stop: Done for the Day
It was getting late in the day when we finally arrived at the relative's house. It had been a long day of riding and site seeing and we were beat. Of course we had some cool stories to share!
They prepared an awesome steak dinner and afterwards we started planning what we were going to see on the way home.
After doing a lot of searching online and with some suggestions from our kinfolk, we settled on Homosassa Springs Wildlife Park.
Day 2: Our Visit to Homosassa Springs Wildlife Park
Arriving at the park
We got a late start on Sunday and arrived at Homosassa Wildlife park around 12:30 in the afternoon. At the time we didn't know that there were actually 2 entrances, so we parked at the 'Friends of' entrance on U.S. 98.
The only thing we really new when we researched the location was to look for the ginormous manatee statue outside. Trust me, you can't miss it.
The parking lot was moderately full and not busy, thankfully.
When you're riding a motorcycle, parking lots can be a lot more problematic and nerve racking than normal specially if they're busy.
Motorcycles are hard enough to see on the highway let alone in a busy parking lot with your kids screaming and other traffic buzzing around you.
We found a nice parking spot near the entrance/exit and parked the motorcycle.
I always try to park the bike so that when we're ready to leave, we can get out of the lot easy without driving through the entire lot to get out.
Last in, first out as they say.
After parking, we stored our riding gear and motorcycle helmets and made our way to the front door.
The Friends of Homosassa Springs Wildlife Park Entrance
Before we entered the building like any good tourist, we had to make sure that we did (what seemed like) and entire photo shoot with Bubbles and Bubbles related propaganda!  
We entered the building and were greeted by two friendly state park rangers who gave us the low down on what to do.
They give you a map, answer questions and let you know when the next canal/jungle cruise ride will be leaving.
Features at this location:
Park information from rangers
Dock to catch the boat ride (free)
Large sitting/waiting area
Snacks
Gift shop
The gift shop features some snacks (not a lot) and drinks if you need something. There is also a large sitting area where you can hang out and wait for your next boat and a few small exhibits to check out.
We opted to hang out in the gift shop and managed to get out with our wallet intact!
Taking the Canal Ride
The canal ride is about a 15-minute ride through the trees to the other side of the park 'jungle cruise' style. The captain of the boat tells you the history of the park, talks about the resident hippopotamus and other facts and history.
The boat ride was once a popular tourist attraction that once featured many more animals (including an island of monkeys) at one time. The monkeys apparently got out of hand and were stealing items from the boat passengers and had to be removed.
We were told that there was a gator in the canal name 'Walley', but he was hiding and apparently wasn't coming out for the day. That's ok, because we were going to get an opportunity later to see plenty of alligators.
Along the way you'll see a variety of birds, turtles and other animals that are native to the area, nothing exotic.
The captain will tell the story of 'Lou the hippo' which is a fantastic story of how a beloved attraction from the old days was saved and given a permanent home inside the park.
That being said;
There is a warning about Lou's 'splash zone' that should not go unheeded!
Lou's splash zone is the area in which he can fling poo with his tail. This is good information to have later on in the park while observing Lou!
The Ellie Schiller Homosassa Springs Wildlife State Park Entrance
After about 15 minutes of canal ride you'll arrive the pier on the Fishbowl drive. You'll need to cross Fishbowl drive to get to the actual 'Ellie Schiller' entrance so use caution if you're traveling with kids.
Features at this location:
Wildlife Cafe and sitting area
Gift shop
Bathrooms
Buy tickets to enter park
If your hungry either before or after entering the park, this location features a full snack bar (The Wildlife Café). There is a decent sized menu of items to choose from that includes fountain and bottled drinks and ice cream.
From burgers and other hot food items they have plenty plus a nice sitting area to take a load off and eat.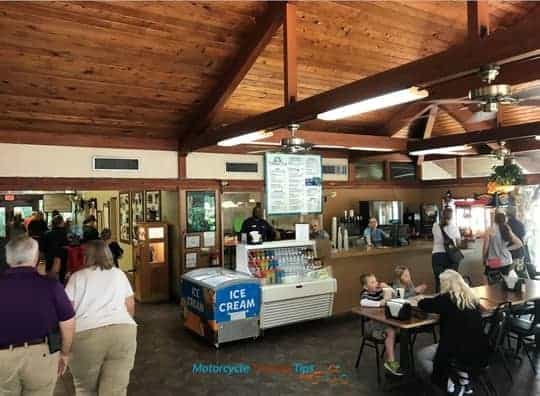 Just past the café you'll see the glass doors to enter the park. There will be a ranger just before the doors for you to purchase your park tickets ($13.00 for adults).
Going into the Wildlife Park
My wife and I grabbed our tickets and headed into the park and out on to the wildlife walk. Since neither one of us had ever seen a manatee up close, finding the manatees was the first order of business.
The star of the show in these parts is clearly the manatee, so that was the first area we headed to. The path is well signed, so we had no issues finding what we were looking for.
Looking for Manatees
After a bit of a walk we found a park ranger doing a presentation for some people sitting on bleachers and – manatees!
Several of them. Time to get our manatee on!
Although you can see manatees at this location (and listen to the presentation which is good) what you should do is follow the path to the underwater observatory where you can get a really good up close view of the animals.
The cool thing?
While the ranger has the masses distracted, you can get a good spot in the underwater observatory and watch up close and personal while the manatees are getting fed and check out several large species of fish.
The underwater observatory (fishbowl) offers the best view of these animals up close. Stick around long enough, and the rangers will be over feeding these guys to.
Are the manatees just there for free food?
Not at all.
Part of the parks mission is help sick and injured animals.
The manatees that we observed were all in various states of healing (from boat accidents and other encounters) and would be released as soon as they ready to go.
In the meantime, they get free food and get to visit with their fans.
Seeing more of the Park
After leaving the manatees, we walked across a bridge that took us across the river and into another large section of the wildlife park.
In this other large section of the park you'll see wide range of other animals that the park houses for two reasons:
The animals are being nursed back to health from injury (to be released later).
The animal is permanently injured to the point where it can't survive in the wild. Eagles with one wing is an example.
Animals that are kept in the park are there for a reason and not used as 'circus animals.
Gators and the Reptile house
After checking out some deer and other birds, it was on to the gator pen and a bonus we didn't know was there, the reptile house.
The park features several large alligators hanging out in a large pond doing their thing, often close to the fence line.
They are awesome and fascinating to look at as long as they are on their side of the fence!
The area is fenced well and as long as you're not a stupid human whose made the decision to climb the 6 to 8 foot chain link fence you'll be fine.
There is also a small barrier fence that keeps you about 4 feet away from the inner chain link fence. Mind the kids and don't let them go up to the inner fence.
It's also recommended that you don't throw food and other items into their area.
Be a smart human, not a statistic.
The Reptile House
What sets this reptile house apart from the big zoos is that fact that the snakes and lizards that live here are all from Florida. There are a large amount of local snakes housed here and are just cool to look at.
So as a Floridian, it was time to pay close attention to who the snakes are in my neighborhood!
Keep this in mind;
The reptile house will also be hot and muggy so you won't find much relief from the hot and muggy weather outside!
Want to see the infamous Water Moccasin? Wish granted!
The Wildlife Walk
We continued down the wildlife walk which featured a wide variety of birds and other animals as we strolled through the park.
There are numerous species of water birds and birds of prey, many of which are injured and can't fly anymore. The highlight of which are the bald eagles that have been permanently injured.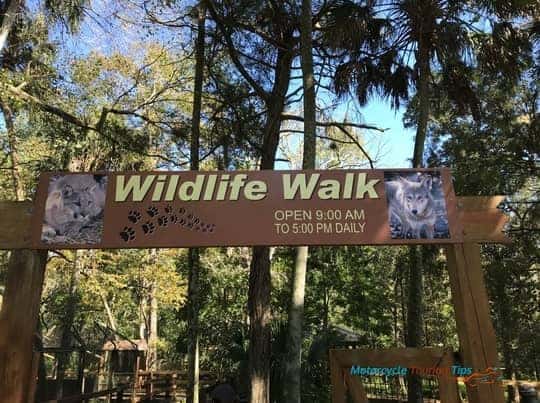 Some of the animals that you'll see along the wildlife walk:
Wild cats, pumas and cheetahs
Flamingos
Birds of prey – Eagles, Osprey
Foxes
And tons of other birds that I don't even know the names of!
Homosassa Wildlife Park Hippo – Meet Lou
Along the wildlife walk you'll encounter the oldest hippopotamus in captivity at 58 years old.
Lou is famous resident of the park who is a left over from an era when property was a tourist attraction.
As I understood the story, when the park was taken over by the state Lou was beloved by everyone around no one wanted the animal to be moved.
After a massive write in campaign and action by the then Governor Lawton Chiles Lou was made a permanent Florida resident.
Reminder: Pay close attention to signs warning of the splash zone!
Lou flings his poo with his tail and if your in the splash zone you'll be wearing it.
Wrapping up our visit to Homosassa Wildlife Park
My wife and I had no idea this place existed before this trip, so stopping off at Homosassa Springs Wildlife Park was a fun 'happy accident'.
We spent around 2 – 3 hours casually strolling through the park checking out all the sites and the animals.
When we decided to check the park out we really didn't expect that the park would feature so many animals and be as large as it is. An unexpected pleasant surprise!
Best $13.00 ($26.00 for two) I've spent in a long time.
There was a lot to see and check out, so it was easy to let time get away from us for the afternoon.
But leave we must…
We took the boat ride back, which was nice after all the walking and jumped on the motorcycle for the ride back to Jacksonville.
Homosassa Springs Wildlife Park was a nice capstone on a weekend long motorcycle ride through the countryside that included good food, friends, family and wildlife.
Just like our saddlebags, we packed a lot in for this trip!