We're an Affiliate. If you use our partner links we earn a commsission at no extra cost to you. Thank you for your support! Read the full disclosure here.
If you own a textile or mesh jacket and have wondered how to clean it, then you'll love this quick guide.
I'll give you an easy 7-step method how to clean a textile motorcycle jacket in your washing machine at home.
You'll discover that the process is easy if you just apply some basic common sense.
Do you have a textile motorcycle jacket that you need to get cleaned up?
The great thing about most textile jackets (depending on what the manufacturer says) can be placed into a washing machine, but there are some steps you'll need to do to get started.
How to clean a textile motorcycle jacket:
Check the tag Ensure jacket is machine washable
Remove pads
Remove inner liner (if present)
Open all zippers
Treat stains
Wash in cold water, gentle cycle
Hang to dry
Dirty jackets tell stories
I look at cleaning my jacket as a good thing and not so much as a chore, but not in the obvious 'cleanliness' aspect.
Here's why;
If your jacket gets dirty, that (most likely) means that your riding. Getting out and riding means your going places and doing things, riding with friends.
Road stories, memories and fun!
In other words, you're getting out and enjoying your motorcycle and gear that you spent your hard-earned money on.
Yes, even if all you're doing is riding your motorcycle to and from work or around town.
Look;
Using a washing machine to clean a textile motorcycle jacket or suit can seem a bit daunting because gear is expensive.
It all comes down this;
If you're not in a big hurry and apply some common-sense methods for machine washing delicates apparel, you shouldn't have any problems cleaning your motorcycle jacket.
Let's get started.
Step 1: Check the tag
It should go without saying, but a lot of folks skip this step, and it's really the most important. Just like anything you purchase that's expensive take a moment to check out the instructions on how to take care of it.
Before you do anything with your jacket, you need to know what the manufacturer recommends when cleaning.
You need to know:
What material the textile jacket is made of.
Remember that 'textile' is a general term for a woven fabric style jacket and not a specific material. Textile motorcycle jackets are made from a wide range of materials like cordura/nylon, polyester and any other combo of synthetic and natural materials.
Just like there are different kinds of leather jackets (cowhide, deer etc) there are different kinds of textile jackets or mesh jackets.
If the material used to make the motorcycle jacket has been blended with other materials (often the case with a lot of todays clothing) take note of the percentages.
[blockquote align="center" author="MCTT"]My mesh jacket (that's actually an inner shell of my overall motorcycle jacket) is made of 100% polyester. I can machine wash this jacket but I need to be careful and not use extreme heat that could melt the fibers. Dry cleaning is out of the question.[/blockquote]
Is It machine washable?
The tag on your mesh jacket should let you know if it can be machine washed or not. If it doesn't state one way or the other you may want to contact the manufacturer.
Chances are that you'll be fine as long as you are not using hot water or heat in the washing machine.
In this article I've outline the most conservative method of machine washing a textile motorcycle jacket that shouldn't cause any damage.
Can it be dry cleaned?
This is a biggie.
A lot of people will want to take the easy way and just take their motorcycle jacket to the dry cleaners and be done with it.
If your tag specifically states to not dry clean your motorcycle jacket, don't do it.
Why is that?
Dry cleaning clothing requires the introduction of severe heat (not to mention whatever crazy chemicals they use) to the material of the jacket (steam and pressing) that can cause damage to the material.
Step 2: Remove Pads
Before tossing the motorcycle jacket into the washer, check to see if your pads are removable. With most textile jackets, they will.
The easiest way to check is this;
If your jacket has a back pad simply open the jacket and look for a pocket stitching and there is a Velcro closure.
To check and access the elbow pads simply pull the sleeve inside out to access the closure and pocket that contains the elbow pad.
Can't remove pads? Once Again, check with manufacturer.
Riders discussing this online have stated they have had no issues with the pads getting wet as long as the wash and drying was done without heat.
If you're still not comfortable that's ok. There are other products you can use to hand wash your jacket that don't contain chlorine and don't entail you having to put the motorcycle jacket in a washing machine.
Step 3: Remove inner liner
Some inner liners are made of a softer material that may be more delicate that what was used for the rest of the motorcycle jacket.
If you have the ability to remove the inner liner it's recommended that you do it and wash it separately. If that's the case be aware that it may have it's own set of specific instructions for washing.
[blockquote align="none" author="MCTT"]With my mesh jacket, it's actually the inner lining of the entire jacket. There is a different material on the inside, but it's made of the same material as the entire jacket. Just a thinner version of it and not as course.[/blockquote]
Step 4: Open all zippers
Just like your regular laundry, this is a good time to check your pockets for miscellaneous paper (gas receipts etc) and other objects.
Opening the pockets helps water and detergent circulate better and relieves stress on the zippers themselves.
Step 5: Treat Stains
Need to treat some stains and other trouble spots?
Many riders use a citrus based cleaner and toothbrush to clean up stains before tossing them in the washer.
If you're going to use cleaning products to pre-treat the stains in your jacket make sure that the cleaner does not contain chlorine.
Products that will work:
Citrus based cleaners
Shout stain remover (no chlorine)
Oxiclean
Liquid dish soap
If you have the time, products like Shout work well when they are left to sit overnight.
If you don't have that kind of time, you can use a small nylon brush (toothbrush) and mix liquid dish soap in a couple cups of cold water and treat directly.
When you start treating the stains, start with the most conservative cleaners and work your way up from there.
Step 6: Place in washing machine
Now let's get the washing machine setup before we toss in the jacket.
Washing machine settings
Every washer is labeled a bit different, but you'll want to set your machine to any of the following settings (or something similar to it):
Delicates
Wool
Gentle Cycle
Handwash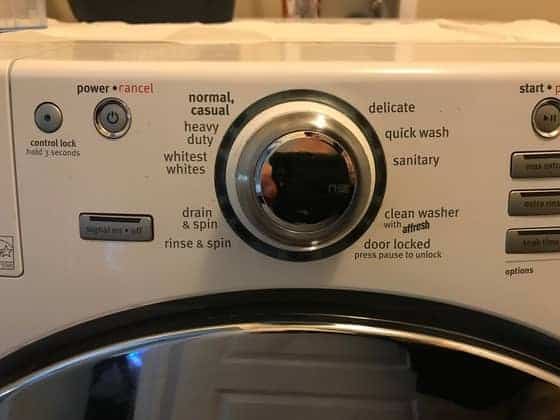 Some washing machines have multiple gentle cycle settings listed on the dial (wool/gentle cycle for example).
If you have a lot cycles on the machine to choose from, go with the cycle that you think will be the gentlest. If you treat your jacket like your washing a wool garment you should be in the safe zone.
Water temperature
I'll start by saying flat out to not use hot water at all. The more heat you subject your jacket to, the more likely you are to damage it.
To be as safe as possible it may be best to use only the cold setting. Whether or not you bump it up to using warm water may depend on what the motorcycle jacket is made of.
For cordura, warm water is ok, polyester it's best to stick with cold water.
Rinse cycle
To make sure that you get all of the detergent rinsed completely out of the jacket, you may want to consider running the jacket through a second rinse cycle.
Cold water of course.
Step 7: Hang to dry
No matter what the jacket is made of, severe or excessive heat will be it's enemy. For this reason, you don't want to put your motorcycle textile jacket into the heat of a dryer.
The best way to get your motorcycle jacket dry without heat damage is to hang it out to dry.
You'll want to hang it someplace where it won't be subject to direct sunlight or other heat source.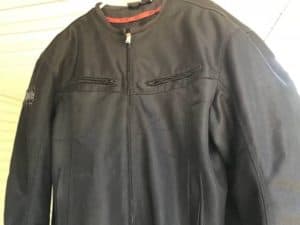 In a hurry?
If you have a fan you can speed the process up a little having a fan blow cool air on it.
Another option for those that live in an area that's hot and you don't mind being damp for a bit is just wear it.
What cleaners work for textile motorcycle jackets
There is a wide variety of cleaners that you can use on a textile/mesh jacket, but there are two types of cleaners that you should absolutely not use.
Avoid these cleaners:
Cleaners that use either chlorine or bleach will damage your jacket or any other delicate clothing you may have.
Cleaners that you can use:
Baby shampoo
Basic Laundry detergent
Oxiclean
woolite
Febreeze
desalter
Shout (for stains and spot cleaning)
Double check your jackets label against the ingredients of any cleaning product you use.
Other cleaning options for your motorcycle jacket

For whatever reason, you can't or don't want to put your motorcycle jacket in the washing machine.
Here's a quick list of methods:
Hand wash/soak the jacket
Dry cleaning; Only if the jacket tag specifically allows it!
Hosing it down method – Some riders simply spot clean their motorcycle jacket, hang it up and then take the hose to it. They leave it up to hang dry.
Textile motorcycle jacket cleaning tips
Wipe down the entire jacket first and remove any debris before placing into the washing machine.
If you're applying detergent directly to the jacket start by diluting the solution then making it stronger as necessary.
Can't remove the armor and padding? You may want to hand wash. Use cool water, then some warm water for trouble spots and stains.
Sport wash for synthetics is another detergent option many riders use.
Not in a hurry? Consider soaking the jacket overnight and handwashing.
Make sure to read the detergents label! Many cleaners sneak bleach and chlorine into the ingredients.
If you have a waterproof textile jacket you may need to re treat
Use warm water whenever possible, as warm water cleans better than cold for spot cleaning.
If your textile jacket any form of leather or suede on it you may want to refrain from putting it in water. If it does get wet, you can use mink oil to help soften the leather/suede.