We're an Affiliate. If you use our partner links we earn a commsission at no extra cost to you. Thank you for your support! Read the full disclosure here.
Whether you're new to using insulin or you've been using it for years, traveling on a motorcycle can be challenging. Luckily, I've gathered a few tips and tricks you need to make it a stress-free experience.
How to Travel On a Motorcycle with Insulin
There are 6 simple steps to successfully traveling on a motorcycle with insulin. They're as follows:
Know what you need
Make a checklist
Keep the insulin cool
Test often
Beware of heated gear
Tell your group
Without extra information, these steps are vague, so we'll elaborate more below.
Step 1. Know Exactly What You Need
Heading off for an overnight or extended trip requires you to be prepared. However, packing for someone with diabetes, like yourself, can be difficult. Especially if you've only just been diagnosed and you're still getting to grips with the whole insulin thing.
To make it easier, here's a list of all the diabetic care items you will need to pack in your motorcycle trunk for an extended trip:
Glucose tablets — The exact number will vary depending on your condition, but I've found that 20 seems to be a good ballpark figure.
Snacks — The specific type of snack will vary. I'd suggest getting recommendations from your primary care physician if you are newly diagnosed.
3 AAA batteries
10 needles
10 site sets
Your testing meter
7 testing strips
Cooling contraption — Your insulin needs to be kept cool, which is tricky on a motorcycle without the right equipment. I'm going to talk about that later in step three.
Insulin vials — Two is safe, more is safer.
We've got an extensive list of motorcycle packing hacks with a list of items to bring with you that you may find helpful when gathering my supplies for a week-long trip. It's always good to make yourself a pre-trip packing list otherwise you'll forget things you really need.
There are many times I think I would've forgotten most of the items when I first started had it not been for this comprehensive checklist!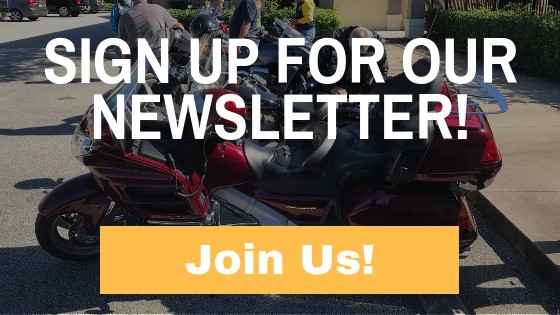 Step 2. Pack The Same Things Each Time
Whether you are using the checklist I mentioned above or you're using one you've made yourself, don't pack for a trip without it. Driving 50 miles before realizing you've forgotten your insulin or test strips can be a killer.
I'd suggest that you make a checklist that covers you for an extended (I'm talking a multiple week) trip. It is much easier to work out the exact number of glucose tabs etc. you need for shorter journeys this way.
Every time you gather all your stuff together, use the checklist to mark off everything you pack. You will never leave home without any important items again! In this case, a simple list can save your life. If your securing extra bags on your bike you can check out this guide on how to carry luggage on a motorcycle.
HINT
Generally speaking, you will need a prescription for insulin regardless of where you are in the United States of America. I'm not personally a diabetic, but I don't leave home without a copy of any prescriptions I may be on — and you shouldn't either. Having your current prescription with you will allow you to gain access to fast-acting insulin if you happen to run out.
You might also be interested to learn that Canada is the exception to this rule. You can get your hands on some pretty cheap fast-acting insulin at regular drugstores without a prescription here. Although, I understand that you're not always wanting to tour Canada!
Step 3. Keep Your Insulin Cool
Insulin dies if it isn't kept cool (more). And by dies, I mean you're toast. Insulin is a protein that "goes bad" in the heat and, if frozen, becomes useful at lowering your blood sugar.
The problem is that motorcycles tend to get hot. Keeping insulin cool in this condition can be tough, but it's not impossible.
Bikers with diabetes employ one of two methods, both of which I'm going to tell you about.
Method One: The Frío Bag
I thought we'd start with the simplest method.
The Frío Bag is the best medication cooler on the market. It doesn't just work for insulin. It works for 29 other medicines too.
Regardless of the environment's temperature, the advanced evaporative cooling technology inside the bag allows it to ensure your insulin stays at the preferred temperature.
The company claims that it lasts 5 times longer than ice packs, maintaining a safe temperature for up to 28 days.
Here's how it works:
Immerse the Frío bag in cold water for 5 minutes.
The crystals inside the bag will expand and turn into a gel-like consistency.
Towel dry the bag.
Insert your insulin.
Head out!
The bag will remain cold for around 45 hours. After that time, you repeat the process and carry on.
Keep a copy of your insulin prescription as well as any prescriptions with you while on the road traveling. You may also want to make sure you have your insurance information with you as well.
Method Two: The Thermos
Granted, using a thermos requires more prep and isn't nearly as modern. However, that doesn't mean it's any less effective!
Even though I've recently transitioned to a Frío Bag, I used the thermos method for many years and it worked fine.
You will need the following things:
A thermos (a small one will be fine)
A Ziploc bag
Bottles of insulin (as many as you'd like to bring with you)
Water
Ice cubes
Sock
Once you've got all the equipment, you'll need to follow these steps:
Place your insulin bottles into the bottom of the Ziploc bag.
Seal the bag well. This ensures that your insulin stays dry.
Roll the bag tightly. Make sure most of the air has escaped while you're doing so. Equally, don't worry too much if a bit of air is left inside since this will add another layer of protection against the ice cubes.
Place the bag into the thermos. Don't worry about squashing the top down to make it fit.
Fill the thermos with water.
Add two or three ice cubes to the thermos.
Slide the sock over the thermos. This cushions it against any hard gear inside your trunk.
Step 4. Make Sure You Test Regularly
Medical professionals and organizations state that you need to be testing your glucose levels every two hours while driving. However, it's worth remembering that you might need to test more often while riding a motorcycle since there is a larger risk of hypoglycemia due to the physical activity.
Your care team will be able to figure out your optimum glucose levels when you're touring. But as a general rule, 5.0mmol/L or less means you need to eat something. If it is less than 4.0mmol\L, however, you shouldn't be riding.
In my opinion, treating lows should be your main concern as this will improve your chances of staying safe while riding. Although, both highs and lows should be taken seriously.
Step 5. Get Yourself a Continuous Glucose Monitor
Ideally, you should have a continuous glucose monitor as this will alert you to any significant changes. The Dexcom G5 and the Medtronic models are great for this.
An incredibly slim sensor works to constantly measure your glucose levels so you can get on with living your life. It sends the data to your smartphone, which allows you to see real-time updates on your blood sugar levels, regardless of where you are or the activity you're doing.
Helpfully, you can set the system to alert you as to when your glucose levels drop or rise above a certain point. I'd suggest talking to your care team about these levels as they'll be privy to your lifestyle.
Riding with a group? Keep them informed on your condition. Always good to have friends look out for you!
Step 6. Be Wary of Heated Gear
The packaging surrounding heated gear will, more often than not, state that people with diabetes shouldn't use it. I believe that this is due to the poor circulation that you can suffer from because of it.
You should be wary of it. However, if you are monitoring your blood sugar levels closely, wearing heated gear won't end badly. I always recommend planning for the spikes in glucose due to the heat by packing more than you otherwise would.
Additionally, keeping hydrated is super important. If you don't keep drinking water, you'll find it increasingly harder to control your glucose with insulin.
Step 7. Tell Your Group
If you're riding with others, let them know about your diabetes. It's best if your whole group understands the warning signs of low blood sugar, how you have to treat it, and where they can find your supplies should they need to act fast.
For those of you who prefer touring alone, make sure you're wearing a medical necklace/bracelet. This helps the police/paramedics understand your condition.
I always tell my loved ones when I'm heading out. This gives them an idea as to when they should expect you back. It's best practice (in my mind) to give them a time to "start worrying". It sounds scary but it gives you a lot of freedom since if you're late, you'll know that those at home won't immediately start to panic.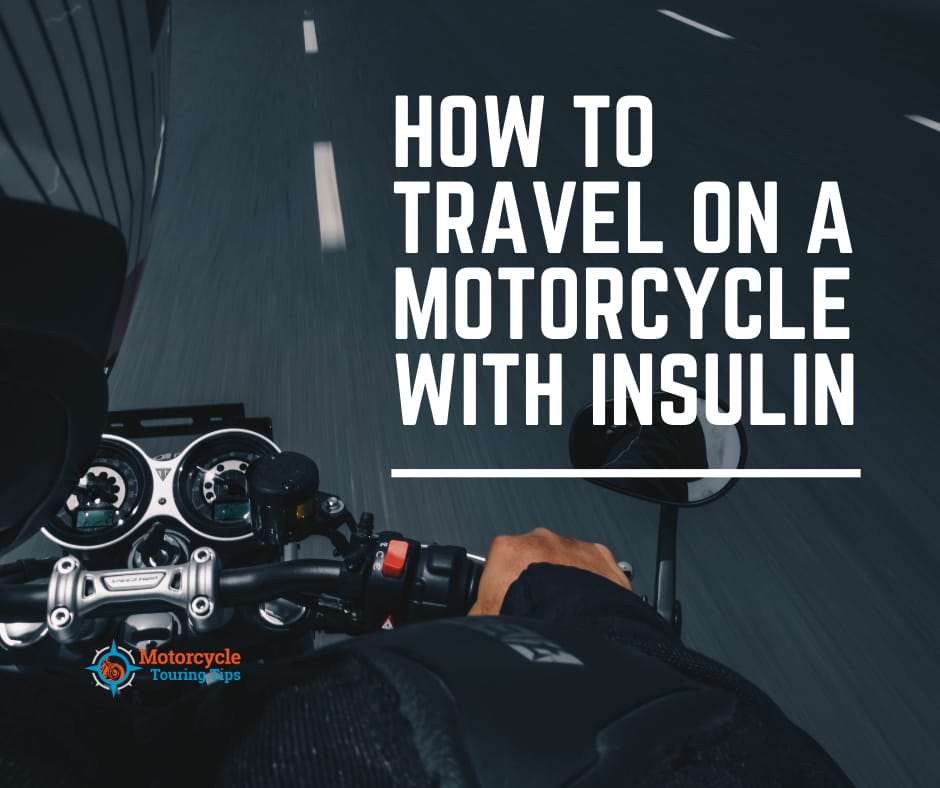 The Bottom Line
There you have it! That's how to travel on a motorcycle with insulin. As you can tell, it's possible. You just need to understand the steps to take to deal with your diabetes effectively and how you feel at certain glucose levels.
Don't let diabetes hold you back from all those exciting tours you have yet to do.