We're an Affiliate. If you use our partner links we earn a commsission at no extra cost to you. Thank you for your support! Read the full disclosure here.
It's one of those little things that can drive women (and some men) crazy when they head out for nice weekend ride on their motorcycle.
Nope, we're not talking about how to pack your motorcycle for a long trip, you should have that under control when you hit the road!
So what's this big mystery?
How to wear your hair when riding a motorcycle, or at least finding a way to keep it under control.
Sometimes it's the smallest problems that can cause the biggest problems and take us out of our comfort zone.
Most guys probably don't worry about it to much (I don't) but it can be an issue for women. My wife struggles with her 'do' every time she puts on a helmet.
The struggle between hair and helmet began hundreds of years ago when humans made the decision start wearing stuff on their heads. Mostly to keep their skulls from getting crushed.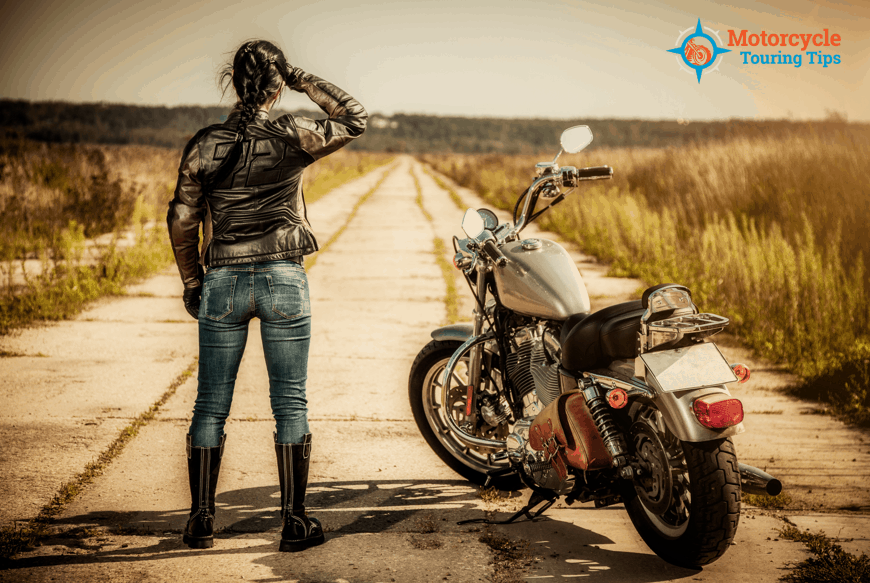 Today, years later, how to wear your hair when riding a motorcycle (still talked about here) still plagues humankind. Whether you've got long hair, short hair, medium length, curly, wavy, straight – when it comes to hair helmet, all us biker chicks and dudes are in the same boat – or motorcycle.
For women, trying to figure out how they are going to fit all that hair into a motorcycle helmet (more) comfortably, make the helmet fit right and still look presentable when they they take the helmet off can be a big problem.
Motorcycle Helmet Styles for Women
When dealing with helmet head, here are a few options. Some are simple and others a bit more extreme – How far you go with may depend on how often you actually ride.
Hair tucked inside helmet or Ride "upside down"
Carry hair care products with you
Brush hair opposite way from normal- revives flat hair
Use a do rag
Put hair in a braid using a wraptor or hair glove
Change hairstyle to a bob or pixie (extreme!)
No Buns
For superheroes, Edna Mode says, "No capes!"
For women riding motorcycles, your best modus operandi often is, "No buns!" Buns are a surefire hair-don't when you're riding a motorcycle for many women, especially for those who wear their hair super long.
Why?
Because your bun will be super big, and that means your headaches will be super real.
Okay, maybe ladies with shorter hair can get away with it, but for those of us who sport longer styles, all that hair piled into one big scone underneath a helmet will only push into our heads, and that can cause massive pain, especially if you're on a long ride.
A better idea is to put your hair in a ponytail or pig tails beyond the bottom of your helmet. That way, the only things up inside your helmet are hair and your head.
Say nay to the spray
And while you're at it, no heavy, non-aerosol hairsprays either.
Spraying your hair with aerosol hairsprays before you ride can freeze it into that flattened mess that happens all too often when you're riding.
And it'll make it sticky, too. Instead, start your ride without any hair product at all. That way, when the helmet comes off you'll be able to freely run your fingers through your hair and work it into place. Or better yet, carry a little conditioner with you.
When you get to your destination, put a tiny bit into your palm, rub it all over your hands and fingers, and then work it through your hair and style as usual. It's almost like you just washed it!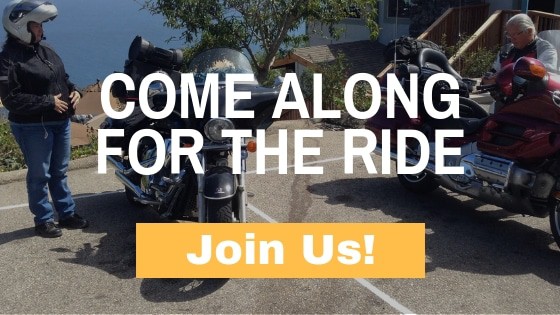 Tuck hair in your helmet or "Ride Upside down"
Of course, this doesn't mean to physically ride your motorcycle upside down. It means, for those of you ladies with medium-length or long hair, secure your hair up inside your helmet while you're upside down.
Bend straight over when putting on your helmet. Gather it together with something that won't take up too much room up inside your helmet, such as a scrunchie or other soft, stretchy headgear that will stay in place.
Then tie it all up on the top of your head and ride. When your ride is over, again bend over to take off your helmet. When the helmet is off and the scrunchie is out of your hair, do your most serious hair flip from that bent-over position. Talk about volume!
Gel like the wind
If you've got masses of curly hair, keeping that soft, windswept look can be tough for lady bikers. In this case, going without gel may not work for you. In fact, it could be that just the opposite that works best.
Fluff and volume often can be added easily after a ride to flattened-out straight styles, but once curls flatten it can be difficult to plump them up again. Try using a holding gel that will keep your curls from flattening out in the first place.
Even a few spritzes of water can do the trick. Carry a small spray bottle with you and spritz your curls after a ride. As mentioned above, bending over to unflatten hair can help to add volume and make styling more effective.
Opposites' attractive – Brush your hair Opposite
Some female motorcyclists actually have reported that brushing their hair the opposite way they wear it can work wonders
to avoid hair helmet. When the helmet comes off, comb your hair reverse
of your normal style.
This action can help to fluff up what the helmet has flattened. It can also add volume, bringing your hair pretty much back to its usual fullness.
Use a do rag
That's a good question. When it comes to do-rags, the answer for millions of motorcyclists is definitely 'do.' Do-rags and bandanas are still a staple for making your hair behave when you ride – or at least for hiding it when it won't behave.
In fact, these are the top toppers for avoiding helmet head. They can also lift your helmet up just enough to keep your hair from going too flat.
And you can reestablish your normal volume with just a few shakes of your head. These options, along with stretchy headbands, are also a great way to keep those flyaway hairs in check so they don't irritate you while you're riding.
Plus, with the limitless styles available these days, you can 'do' it up with style and express who you are all at the same time!
No the braids don't come with the helmet
But they do go well with it, don't they? Braids are a beautiful, simple, and effective means of saving you from helmet head.
Fishtail, slipknot, wrapter, hair glove – braids of all makes and models are a lovely and appealing way to do up your do while riding your motorcycle.
Braids not only make you look super. They're sleek, chic, and hassle-free.
Yes sir-ee bob?
If you've tried everything and it just doesn't work, your problem may simply be your hairstyle. In this case, you may want to try a simple bob.
Bobs have been popular forever because they're a no-hassle style that stays beautiful all day.
Put one of these no-nonsense beauties up under a helmet and you've got a simple and stylish way of avoiding helmet head no matter how long the ride.
The bob is such a versatile style that there really isn't anything a helmet can do to keep it from looking great. And today's more edgy versions of it go perfectly with all-things biker chick!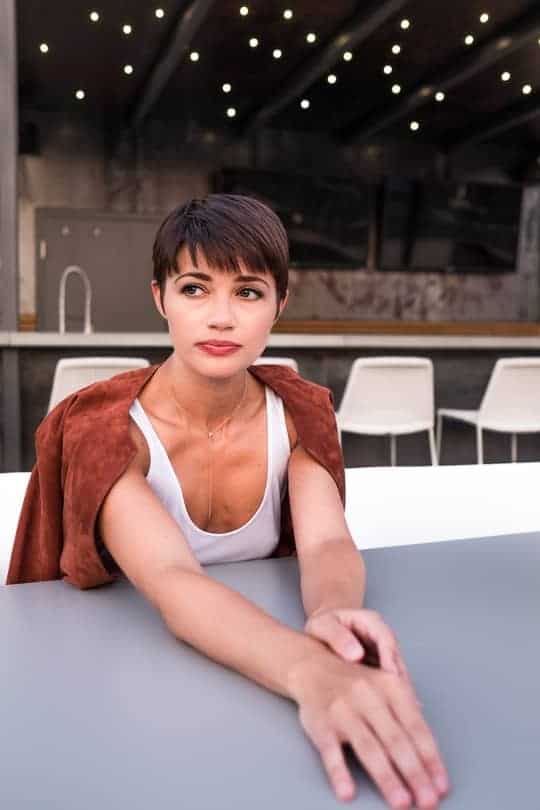 Pixie and dust
The pixie is another great style that goes well with the road. From Twiggy in the 60s to Madonna in the 80s and Halle Berry in the new millennium, the pixie has gone down through the ages with style.
If you're looking to chop your top for your favorite hog, a pixie is a perfect style that goes great with motorcycles because, like the bob, it's a hassle-free hairdo that's not likely to become a hair-don't underneath your helmet.
But if it does go flat on you during a long ride, it's one of the easiest dos to fluff up afterward. Try a little gel or conditioner to add volume or to spike it up for a little added spark.
Cur-'tail' helmet head!
There simply isn't any hairstyle that works better for a long ride than a simple pig or pony tail. These styles still top the list of faves for ladies who love to ride motorcycles because they're a cinch to do up and easy to maintain.
Plus, if you use the right stretchy band to hold a pony or pig tails in place, you can avoid those little stabby flyaway hairs that can get on your face and be so annoying while you're riding.
Long and winding for the road
If you like your long hair flying in the wind but you don't intend to go without your helmet, try big rollers when your hair is wet to further straighten your look.
When your hair is dry, use a volumizing spray that will add depth and keep your long locks from getting too flattened out.
When the helmet comes off, simply spritz a light non-aerosol spray directly onto your roots with your head turned upside down and flip it back up. Your hair will be lifted, and volume will be added.
Motorcycle Hair Styles For Men
A lot of people probably think helmet hair is a woman thing, but guys suffer from this affliction as well.
Helmet hair is not a respecter of persons; its scourge knows not gender. However, for guys who love to ride motorcycles, the solutions can be a little simpler and a lot more direct.
Destination hairdo
One of the most effective ways for guys to avoid hair helmet is to simply wait until you get to your destination before you style your hair.
If you need to blow dry your hair, carry a mini blow dryer with you. A simple trick for guys who have bangs is to put the helmet on only half way.
Reach into the face shield and place the bangs where your style requires them to be. When you put your helmet on the rest of the way, it will hold them right where you want them.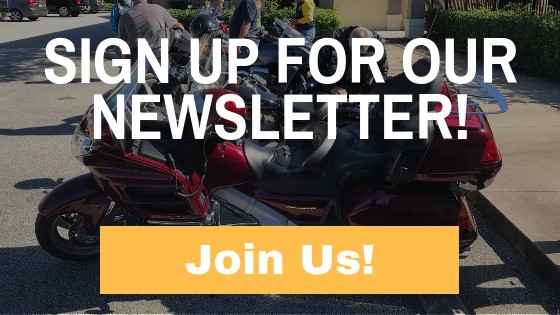 Keep it short
Short haircuts aren't a must for guys who ride bikes, but they can help to keep you from looking like your helmet is still on even after you've removed it.
A close-cropped or buzz cut is one of the simplest methods of avoiding helmet head. If you like to use a little gel or other product on your hair, wait until you get to where you're going to use it. Simple as that!
Shave it off
No, that's not a typo of a Taylor Swift song. We really mean it – shave your head!
A shaved head is one of the coolest looks ever, particularly if you're a bike enthusiast. Some of the hottest, sexiest guys in Hollywood have shaved heads.
Jason Statham, Dwayne Johnson, Bruce Willis, LL Cool J – you just can't argue with class and style.
But add in a motorcycle, and you've got sex appeal that never quits! And, well, shaving your head may just be the quintessential biker's answers to helmet head.
If you don't want to shave your head completely, try using one of the lower settings that will maintain a hairy look without all the hair.
The mod-ular squad
If you're a dude who loves your bike but you also love your long hair, a modular helmet may be the answer for you. Modular helmets effectively protect your head, but their open-face style won't flatten your hair quite as much as a full-face helmet can. Alternatively, you can use a three quarter helmet with a face shield (like the HJC IS-33) to accomplish the same purpose.
They offer a little more give, and that means you can pull the sides a little further away from each other when putting it on.
This will aid in enlarging the head opening, and that means the sides of the modular helmet won't flatten your hair nearly as much as the other kind.
Top it off
Are you considering just getting rid of your bike altogether because you're sick of that hair helmet you've been sporting? That's crazy and completely unnecessary!
If all else fails, wear a hat. Today's stylish toppers are a great way to avoid helmet head.
I always travel with a ball cap in my tour pack so have something to make me look presentable in public if I stop to grab a bite to eat.
If you like the look but you haven't tried it yet, a bandana or do-rag is just as cool for men who ride bikes as it is for women. In the motorcycling world do rags are pretty much the norm, I always keep one on hand.
Of course, baseball caps never seem to go out of style. The relaxed beanie may be the way to go, but you might have to secure it on with something. And, believe it or not, classic hats like fedoras are back in style for men big time.
Of course, wearing a fedora fall into the 'can you' vs 'should you' discussion.
Can you wear a fedora to cover up helmet head? Yes, you can.
Should you wear a fedora?I don't recommend it.
That is unless you'd like to attract a lot of attention to yourself from other riders and look like a pretentious douche. Just stick to a ball cap!
Is there an all encompassing answer to the maddening mystery of helmet hair?
Like the question of how many licks does it take to get to the center of a Tootsie Pop … the world may never know.
But you're not the world, are you? You're just one motorcycle enthusiast who needs a solution to your helmet flattening your hair like a monkey's.
So try a few of the tips offered here, and you're likely to land on something that works for you. Seriously, though, do you really care all that much anyway?
Dealing with helmet hair is a bit of a pain because we're all a little vain in some way or another. Don't spend too much time worrying, the open road awaits!
Frequently Asked Questions
Q: How can I prevent my hair from getting tangled while riding a motorcycle?
A: To prevent your hair from getting tangled while riding a motorcycle, it is recommended to tie your hair in a secure bun or ponytail. This will keep your hair in place and minimize tangles.
Q: What are some good hairstyles for women to wear while riding a motorcycle?
A: Some popular hairstyles for women to wear while riding a motorcycle include ponytails, braids, buns, and even wearing a scarf to cover and protect your hair.
Q: How can I protect my hair under a motorcycle helmet?
A: To protect your hair under a motorcycle helmet, you can try wearing a silk or satin scarf underneath to act as a barrier between your hair and the helmet. This can help minimize friction and reduce the chances of tangles or hair damage.
Q: How can I manage helmet hair after taking off my helmet?
A: After taking off your helmet, you can run your fingers through your hair to help loosen any tangles. Using a leave-in conditioner or detangling spray can also help smooth out your hair.
Q: What can I do to keep my hair from getting tangled inside the helmet?
A: One way to keep your hair from getting tangled inside the helmet is to wear a helmet liner or a breathable headband. These can help control sweat and keep your hair in place.
Q: How should I choose a helmet that won't mess up my hair?
A: When choosing a helmet, opt for a size that fits snugly but not too tight. A helmet that is too tight can cause excessive friction and result in helmet hair. Additionally, helmets with removable liners or padding can be easier to clean and maintain.
Q: How do I prevent hair loss or breakage while wearing a motorcycle helmet?
A: To prevent hair loss or breakage while wearing a motorcycle helmet, it is important to have proper helmet fit and ventilation. Avoid wearing a helmet that is too tight or causes excessive pressure on your head and hair. Using a satin or silk scarf underneath the helmet can also help minimize friction.
Q: Is it better to have straight hair or curly hair when wearing a motorcycle helmet?
A: Both straight hair and curly hair can be worn under a motorcycle helmet. However, it is important to secure your hair in a way that minimizes tangles and keeps it in place. This can be done by using hair ties or accessories like clips or pins.
Q: How can I hold my hair in place while riding a motorcycle?
A: To hold your hair in place while riding a motorcycle, you can try using hair ties, bobby pins, or hair clips. These can help secure your hair and prevent it from flying around or getting tangled.
Q: What are some tips and tricks to keep your hair from getting tangled under a motorcycle helmet?
A: Some tips to keep your hair from getting tangled under a motorcycle helmet include using a leave-in conditioner to smooth out your hair, braiding it before putting on the helmet, or using a protective hairstyle like a bun or ponytail.