We're an Affiliate. If you use our partner links we earn a commsission at no extra cost to you. Thank you for your support! Read the full disclosure here.
When I was looking for luggage rack for my Goldwing, I looked at what other riders were using, but settled on the Kuryakyn 7151 motorcycle luggage rack.
This motorcycle rack is designed for the Goldwing, and fits on top of my trunk lid (with provided hardware) good and is secure. It has a thicker metal construction and I like the flat sleek design.
This rack does what a good rack should do; Provide you with ample extra space to put a good sized duffle bag without that duffle bag rubbing against the trunk lid (screwing up your paint).
Kuryakyn 7151 Motorcycle Accessory: Tour Trunk Luggage/Storage Rack for 2001-19 Honda Gold Wing GL1800 Motorcycles, Chrome
16 new from $266.39
Free shipping
as of September 20, 2023 8:22 pm
Features
The styling of our Luggage Rack for Gold Wing is a perfect match for the venerable GL1800 platform
Constructed from durable cast aluminum, the contoured design pairs perfectly with the shape of GL1800 tour trunks and features a no-slip rubber insert that helps keep your load firmly planted
This model is available in chrome and we also offer Luggage Rack Risers sold separately (P/N 7154 - Chrome, P/N 7158 - Gloss Black)
Includes (1) Luggage Rack with Rubber Insert, (1) Hardware Kit, containing: - CONTINUED - Hardware Kit, containing: (2) #10–24 x 1" Button Head Cap Screws, (4) Cup washers 2 #10–24 x 1-1/4" Button Head Cap Screws, (2) Rubber Spacers with Adhesive Back, (4) 1/4" Flat Washer, (8) Rubber washers; suggested tools for smooth installation: Set of Hex Wrenches, Drill and Drill Bits, Masking Tape, and a Marker or Pen
This Kuryakyn part is most compatible with Gold Wing: '01-'19 GL1800 Models (except F6B)
Riding A Different Motorcycle?
The the Kuryakyn 7151 rack is specific to the Goldwing 1800. However, I have found some great alternatives that not only work for Godwings, but just about all touring motorcycles.
Why have a motorcycle luggage rack?
You would think having a fully loaded 'bagger' motorcycle with left and right side bags plus a trunk would be enough.
If you've taken any long rides, you know one thing;
You can never have too much cargo space! (just be mindful of the weight distribution)
But here's thing;
It's nice to have a duffle bag that you can put your essentials in and tie down with a cargo net. When you stop at your hotel for the night, off comes the bag with your essentials.
Most of my weekend rides are just over nighters and that's exactly what I (I should say we or my gal will kill me!) like to do.
We put our change of clothes and toiletries in our duffle bag, put it on the rack and away we go. A lot of times depending on the ride, pack an overnight bag and take it with us, even if we don't plan on spending the night. You just never know when plans change on the fly.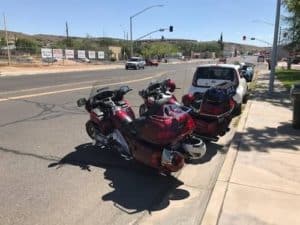 It's nice to be able to take one bag between the two of us versus each of us taking separate small bags and taking up space in the side bags just for an over nighter.
We've gotten pretty good at packing for our weekend rides and not taking anything with us that really don't need. A good size duffle bag is perfect for that.
A good size duffle bag is not a Navy sea bag! I define a good size duffle bag as an average or medium sized duffle. Not too big, not too small – right in the Goldilocks zone. A good medium sized duffle when packed correctly hold a lot of personal items.
Get more space for your long motorcycle trips
I've taken long trips without having an extra duffle bag and now being able to take an extra bag, the extra bag is really a must.
But here's why;
Being able to utilize the area on top of your trunk with a luggage rack is what allows you to take the extra bag. Yes, I know I'm Captain Obvious here, but it's kind of a big deal.
The thing is this-
On long trips there's always extra gear that you have to try to squeeze into your side bags even if you plan on only good weather. From jackets to rain gear (just in case) and your clothing, side bags get full quick. That's barely the basics!
With that extra duffle bag space and some creative packing, you now have the ability to take quite a bit of stuff. Important stuff, not just stuff for the sake of taking stuff.
Keep this in mind;
When you're on a long trip, you've got to make use of all the space on your motorcycle that you can and somehow convince your lady to take less with them!
How I picked the Kuryakyn 7151 luggage rack
When I look for new gear I do a couple of things.
I start by looking at what other riders are using (not to be cool and follow the crowd). When it comes to motorcycle gear, if a bunch of motorcyclists are using a piece of gear there's usually a good reason for it.
I'm also not shy about going and speaking with other riders and getting their input about the gear and why they like and or don't like it.
I like to ask people basic questions about why they like the gear or if they had it to do again would they buy the same thing etc.
I don't stop there;
Then I usually look around online and research it, taking into account what people have told me. Of course I take a look at online reviews as well.
After doing that (or while I'm doing that) I talk to all my friends and see what they're using. Of course, many of my friends have Harleys, so I have to be mindful of that and ask specific questions about the gear as it relates to my Goldwing.
In the case of the Kurykyn luggage rack, a good friend of mine (who also rides a GL 1800) had this particular rack on his motorcycle.
Since I was in the market, let the interview begin!
He gave me the lowdown on the rack told me how durable the rack was. It didn't hurt to see it in person, but I don't always base my purchasing decisions entirely on whether or not I can see the product either.
Again, seeing it to me was secondary to asking him how long he had the rack and if he'd ever had to replace anything. Of course, he'd had this motorcycle luggage rack for quite some time with no issues.
The best part?
He agreed to install it for me.
I don't trust my abilities to drill holes in my motorcycle!
What did I want in a motorcycle luggage rack?
I'm not the kind of person that puts just anything on my motorcycle, I'm very much a minimalist when it comes to accessories. Nothing goes on my motorcycle that doesn't serve a purpose.
Since I determined that having a luggage rack was a necessity (after completing several trips), I looked around at what other riders were using as well as talked with a good friend of mine who has the Kurakyn luggage rack on his Goldwing.
After looking and asking around, I came up with some basic criteria of what I was looking for:
I wanted my future luggage rack to:
Be sturdy, rugged. It was going to get used.
Good width; I want the trunk area covered and the ability to take a larger bag.
I needed to be able to attach a cargo net or bungie straps easy.
Be of a flat design vs the tubular style racks. The tubular designs that I observed on other bikes just looked cheap.
Click Here to buy the Kuryakyn 7151 on Amazon
Installing the Kuryakyn 7151 luggage rack
Installing this luggage rack is easy, but not something that I wanted to do myself. I enlisted a good friend of mine to do the installation while I watched what he was doing. After watching him, I feel like I could do this if I had to.
While these aren't super detailed instructions on how to install the Kuryakyn 7151 here's a basic task list with some pics:
Fit the rack over the trunk area. Try and do this without the risers touching the paint or you'll scratch it. You just want to get the general area where the legs on the luggage rack will actually sit on your trunk.
After you have a 'feel' for the area that the rack will be, put masking tape where the legs will rest. This will allow you move the rack around and get it centered on the trunk lid.
With the legs resting on the masking tape areas, center the rack where you want it to be. Then trace the location of the legs on the tape. You'll want to mark the center of your tracings.
To help with centering the rack on the trunk lid, use the ridge that runs down the center line of the trunk lid.
Next, before you get crazy drilling holes, you'll want to detach the inner trunk lid from the outer trunk lid. This is to move or possibly detach any electrical wiring so that you don't drill through it. You shouldn't have to drill through the inner trunk lid.
Note on the underside of the outer trunk lid there are some circles in the plastic that will help you line up or adjust the location of the trunk rack.
That's pretty much it.
The biggest part of this whole task is lining up the trunk rack, not damaging your paint and not drilling through wires.
What are luggage rack risers for?
If you choose to buy either the Kuryakyn or Krater trunk racks, you will see discussion that references [easyazon_link identifier="B000RH20N6″ locale="US" tag="mototourtips-20″]purchasing risers[/easyazon_link] for your motorcycle trunk rack.
If your Goldwing is equipped with a spoiler or you have the third brake light on your trunk, you will need to make an additional purchase of the riser kit that attach to either of the trunk racks I've talked about.
Your spoiler is going to be in the footprint of where either of the two trunk racks will fit.
The risers are designed to provide enough space for the trunk rack to fit over the top of the spoiler without it touching.
If you don't have a spoiler you won't need to make the additional purchase of the risers.
Depending on the year of Goldwing that you'll be installing this trunk rack, you may need the risers to get optimal fitment.
Although I didn't need to make use of the risers for my installation, many users online have suggested that installing the risers as a general rule of thumb is a good idea. It allows you to clean under the trunk or have room underneath to attached a bag etc.
Long term use notes
At the time of this writing, I've owned this trunk rack for just under a year with no issues. I've been on several over night trips and tossed my duffle bag on board, strapped it down with a cargo net (amazon link) and hit the road. No worries.
I also strongly recommend that you use a cargo net when you're securing your gear instead of using bungie cords. A good cargo net is much more secure and provides a pretty equal distribution of tension across your cargo.
The only you'll want to pay attention to is that the hardware that secures the trunk rack doesn't get loose over time. I say this a general rule of thumb for any aftermarket installation for any product on any motorcycle.
I haven't experienced this problem with the Kuryakyn trunk rack that I purchased and really don't expect to. But it's good to inspect your gear regularly to make sure.
Flaws but not deal breakers
I've seen online that some users complain about the durability of the chrome for this rack, noting that it scratches or damages easily. At this point, I haven't experienced this problem.
I've thrown a bag on this motorcycle rack sever times while using my cargo net. Are there some small wear and tear scratches? Yep, but that's what you'd expect.
My rebuttal to people worried about the chrome on their trunk rack is this – A trunk rack is not a show piece, it's a utility item. If you're using it, it's going to suffer some scratches.
If it's got scratches, it's getting used which means you're taking trips!
All that being said, those that did experience problems with the chrome plating had no trouble getting a replacement rack.
Others have complained of having no instructions in the box. You can use the instructions here as a general guideline or do a youtube search to find instructions.
If you're mechanically dis-inclined and don't want to do it, find a trustworthy friend (like I did) or consider going to the cycle shop and having a pro install it.
At least if they screw it up you have someone to blame!
Kuryakyn 7151 statistics
Here's a few things to know about this Kuryakyn luggage rack:
Construction: Constructed of cast aluminum
Weight: 5.15 lbs
Rack dimensions: 23.6 x 14.8 x 6.2 inches
Load capacity: About 5lbs
This rack fits the GL 1800 for years 2001 up to 2017.
NOTE: It's said that this rack will fit on all years of the Goldwing with the use of risers and other special instructions. See Kuryakyns website for more info
Will install with a spoiler or if your motorcycle is equipped with a trunk light (with the use of risers).
Kuryakyn 7151 questions
Q:  Will this luggage rack fit a 2015 gl 180
A: According to Kuryakyn's website this rack will fit all models of Goldwing (up to 2017 as of this writing) except the F6B
Q: Do I need the risers?
A: If you have a spoiler, the third brake light you will need the riser. If you have a newer model you may need the riser. Many riders recommend getting the risers whether you need them or not.
Q: Is this luggage rack hard to install?
A: Most users online didn't think that this rack was hard to install. Be careful to not over tighten the screws.
Click Here to buy the Kuryakyn 7151 on Amazon
Best Alternative Motorcycle Luggage Racks
If you don't like the Kuryakyn 7151 generally or you ride an entirely different motorcycle that the Goldwing gl 1800, I found some great racks that you can easily mount on your tour pack.
Kuryakyn 7159 Adjustable Rack: A Great Luggage Rack For All Motorcycles
Check out This luggage rack on Amazon
No matter what motorcycle you ride and your looking for a less expensive and more traditional look, the Kuryakyn 7159 adjustable trunk is designed to fit just about any motorcycle tour trunk.
The adjustable legs and hardware allow this rack to fit just about any style of trunk whether they are flat or a curved design.
The Kuryakyn 7159 motorcycle luggage rack is a half inch in diameter chrome tubular in design. The kit includes mounting extensions (similar to the risers for the Goldwing model) for trunk lids that have a steep downward slope.
What's also handy are the corner loops to attach your bungie straps to secure your bags.
NOTE: If you have a Victory Vision, this trunk rack will not work for you!
Kuryakyn 7159 Adjustable Trunk Rack Questions
Q: Is this trunk rack easy to install?
A: Users report easy installation. Just be sure to go by the old adage "measure twice, cut once"
Q: Will this trunk rack fit the Victory Vision?
A: This rack does not appear to fit the Victory Vision and is not recommended.
Q: What motorcycles will this trunk rack fit?
A: Goldwings: All GL 1800 and GL 1500 models, except F6B and trikes. It will fit most Harley tour packs, Kawasaki Voyagers, Yamaha Ventures and several Victory models excluding the Vision. For a complete list, check out Kuryakyn's website.
Also, if your shopping on Amazon make sure you use their "Shop by Vehicle Feature" to ensure that this trunk rack will for your particular bike.
Click here to buy the Kuryakyn 7159 on Amazon
The Goldwing Runner up: Krater Luggage Rack
If the price point of the Kuryakyn rack is bit steep or you just aren't a fan of Kuryakyn generally, the Krater luggage rack may be a great alternative for you. Again, This rack is specific to the Goldwing.
You get the same flat sleek design and it installs onto your trunk about the same as the Kuryakyn rack. This trunk rack is made of billet aluminum and comes in both black and chrome colors, and fits the Goldwing gl1800 all the way up to the 2017 models.
The black model is popular, but it's also available in chrome.
The Kuryakyn trunk rack for Harley Davidson
The Kuryakyn 7139 luggage rack is designed to fit most Harleys, and of course mounts to the trunk lid in a similar fashion.
I'm not a Harley guy (nothing against them I just don't happen to have one) so I can't give you any specifics as to what models this rack will fit, but I have met a few Harley owners who do use this rack.
If you're looking for a trunk rack for your Harley this may be a luggage rack you'll want to consider.
Kuryakyn 7139 Harley Trunk Rack Questions
Q:  Does this rack have the same hole pattern as a stock Harley rack?
A:  No.
Q:  Is it easy to install?
A:  May depend on your own ability, but most users say that this rack installs easy.
Make sure to use Amazon's 'Shop by vehicle' feature to insure that this will fit your Harley.
Let's wind this up
Here's the facts;
One of the best ways that you can take more gear with you is to use as much space on your bike as possible by attaching a motorcycle luggage rack. If you're not using the surface area of your trunk or other area on the back or your motorcycle, your missing out.
But in order to utilize that space properly you need a motorcycle luggage rack to secure your gear safely. That last thing you want to do is have your gear scattered from hell to breakfast on the highway and possibly cause an accident.
For those of us that ride the Honda Goldwing, Kuryakyn's 7151 luggage rack is a great way to use the top trunk space to take just a bit more gear with you, whether it's on a long trip or just for the weekend.
Leave a comment below and let me know what you like to use on your motorcycle.