Motorcycle Touring Tips is reader supported. If you use our partner links we earn a commsission at no extra cost to you. Thank you! Read the full disclosure here.
If you want to increase your riding time on your motorcycle but your stock seat is uncomfortable, the Airhawk Motorcycle seat cushion
is an excellent option to give your rear end and lower back some relief without the huge cost of buying a new seat.
We're an affiliate – Motorcycle Touring Tips is reader supported and may receive compensation from links on this page at no extra cost to you. If you use our links Thank you, We really appreciate it!
Airhawk R Cruiser Seat Pad
Pros
Pressure point support for tailbone and rear end
Uses air individual air cells, to equalize pressure for support
Ergonomically designed with center cutout, prevents pain from pressure.
Cover is breathable with a non skid bottom
Cons
Loss of air in bladder at higher altitudes
​Takes a bit of getting used to
Conclusion
If you're looking for a cost effective way to improve your ride without spending tons of money on a Corbin or Mustang seat, the Airhawk R Cruiser Seat Pad is a good alternative.
It helps take the pressure off of the tailbone and other sensitive areas while your riding, and is easy to mount to your seat without a lot of drama. It does change the 'feel' of your motorcycle, so take time to get used to it before your next trip.
Why get a motorcycle seat cushion?
The whole point in having a motorcycle is to get out on the road, take some long trips (long being longer than an hour straight of riding) and go places you might not otherwise go in your car. It's all about the experience!
The thing is, stock seats on most motorcycles aren't the most comfortable and upgrading the entire seat can be expensive ($300 and up range usually) and can take a while to break in.
Who is this seat cushion for?
This motorcycle seat cushion is for riders looking to extend the amount of time in the saddle and reduce the frequency of stopping and having to rest your butt and stretch your legs.
If you have lower back, tailbone or any other problems that keep you from enjoying your motorcycle for longer distances, the Airhawk is something you should consider.
Normally, here's what happens –
Riders will stop about every 45 minutes to an hour (give or take) to take a rest because of discomfort they may be feeling in butt, inner thighs and lower back.
When you have to rest you'll probably be there for around 20 – 30 minutes or so. Of course, this adds time onto you're ride. So, a ride that takes two hours one way can take 2hrs 30minutes (or more) before you get to where you're going.
Not to mention the time it takes on the return trip.
If you're experiencing more pain and discomfort than normal, then stopping is going to happen more frequently, which adds time on to your trip.
What kinds of riding discomfort will you experience?
It will all start in your butt or what I like to call your 'butt bones' (my term, Dr. Oz probably doesn't call them that).
The 'butt bones' are the contact points you feel when sitting in a hard chair when you're sitting down. Just like sitting in hard chair for a long time, if your motorcycle seat is not comfortable that's generally where you'll start to feel it first.
Next, your discomfort will creep into tailbone, lower back (which is where I get pain after a while) and the inside of your thighs from the seat rubbing them. Being sweaty in the undercarriage is a strong contributor to this.
I've been there, I get it.
If you take weekend trips where your spending an hour plus on your ride, chances are you're going to experience some discomfort. That in turn, leads to not wanting to ride your motorcycle.
Overall, you can purchase a motorcycle seat cushion at a third of the cost of buying a new seat.
Why I bought a seat cushion for my motorcycle
Another problem that I've run into recently with the passenger part of my stock seat, is that a knot has developed under the vinyl. It seems weird and I'm not sure how it happened, but it's there.
The knot of course, has made my 'ol lady' (she'll kill for saying that!) uncomfortable when we take long rides.
Guys, if your lady isn't happy, ain't no one happy and the ride will seem longer!
Replacement Goldwing seats are way more money than I want to spend right now, so I needed a different solution.
So, what's the alternative?
Using a motorcycle seat cushion is the best alternative to give you the comfort that you need to increase your riding time without the expense of buying either a new seat or custom seat. You can get your Airhawk here through Amazon.
Overall, you can purchase a motorcycle seat cushion at a third of the cost of buying a new seat and you get to increase your road time. Awesome!
Airhawk features at a glance
The seat pad features an air bladder comprised of small air cells linked together.
The cells help to equalize pressure for uniform support.
Air Bladder is made of polyurethane plastic.
Cover is made of breathable material with a nonskid bottom.
Includes straps for securement.
Available multiple sizes.
The Airhawk is universal and fits just about any motorcycle. Measure your seat before ordering.
Key Features of the Airhawk seat cushion
The best feature about the Airhawk is the obvious;
It's a seat cushion that is inflated with air, which means that you can make adjustments to its inflation to suit your comfort and/or riding style.
As opposed to using a gel or foam pad where the material crushes under weight to the point of being ineffective.
The cool thing with the Airhawk is this;
The Airhawk is designed better by having individual air chambers (air cells) that are connected. This helps the seat to conform to the various pressure points in your posterior, allowing your body to settle in to its natural seating position.
It makes this adjustment by allowing the air to move between the chambers to areas (or pressure points) on the seat that your body is putting the most pressure.
It's kind of like having a sleep number bed for your butt.
It's Easy to inflate
You don't need an air pump or anything special in inflate the bladder in the Airhawk, although you can get use an air inflator if you need to.
If you use a pump to inflate the Airhawk be careful not to over inflate the seat cushion, which is a common mistake no matter how you choose to inflate the pad. Of course, just like anything that inflates, you run the risk of bursting the air bladder.
The Airhawk can be inflated with any healthy set of lungs the 'ol fashioned way. You can just open the cap and give it some hefty puffs and blow the thing up yourself, which is what I do.
How to Inflate the Airhawk (any model)
The Airhawk is set up with an inflation stem similar to a valve stem type system but it's not quite the same. The inflation stem does not have a valve in the center of the stem (like a tire or tube) controlling air into and out of the air bladder.
The inflation stem on the pad is built pretty solid and is constructed of a high impact plastic with a metal twist to close cap.
Air flow in and out of the inflation stem is controlled by dialing a screw on the cap that's permanently attached to the inflation stem. It's nice that the cap stays on so you don't have to worry about losing anything.
To inflate the Airhawk, all you do is open the cap up by turning it counter clockwise (the 'ol righty tight left loosey thing) and blow directly into it until it's full (Or your eyes pop out)!
Tighten the metal cap down to close the valve and you're all set.
Pro Tip:
​ It takes several turns counter clockwise to open the cap/valve to its maximum position. You'll lose a lot of the air you just puffed into the bladder trying to get the valve closed from that position. That means you have to open it up and do it again. found that if I open the cap/valve up just enough to get good air flow into the bladder, I could twist the cap closed quickly without losing much air.
Airhawk vs Gel Seat Pads
I've used gel seat pads in the past (expensive ones), and I'm not impressed. Sure, they feel great for 15 minutes or so.
In my experience, what typically happens with gel seat pads is that after your weight has been on it for a short period, they crush to the point of being wafer thin.
Once the gel pad is squished to that point, it's well… pointless
You're back to getting pressure on your tailbone, your butt still gets sore etc., etc.
The thing is;
There isn't a gel seat that's thick enough to counter this (that I'm aware of).
Make the gel seat too firm, then your right back to where you started.
How to get the best fit for your Airhawk cruiser pad
The good thing about these motorcycle seat pads is that they fit universally to just about any motorcycle. The only thing that you'll want to be aware of is the style of your seat, cruiser vs dual sport for example (Airhawk makes both styles).
Before you decide to order your Airhawk, take a look at your seat shape and get out a measuring tape.
Measure the width of your seat so you have an idea of which seat pad to order.
Here's a Size Breakdown:
Small
Cruiser R: 11 inches long x 11 inches wide (11L x 11w)
Cruiser Small: 18 inches Long x 12 inches W (18L x 12W)
Dual Sport: 11 inches long x 11 inches wide (11L x 11W)
Note: There are two small cruiser styles that have different measurements. The Cruiser R is a standard cruiser shaped seat while The cruiser style is longer and narrow.
The Dual sport is of course a different seat shape, but the same measurements as the Cruiser R.
Medium
AirHawk 2, Medium: 14 inches long, 14 inches wide (14L x 14W)
Large
Airhawk Cruiser R, Large: 14 inches long, 14.5 inches wide (14L x 14.5W)
Securing the Airhawk seat cushion to your motorcycle
Airhawk provides two straps that stretch and have a buckle on one end of each strap to adjust the length. The buckle and clasps are made of metal and not plastic.
Airhawk provides good installation instructions that are simple and straightforward that give you two options to secure the seat – Seats that can't be detached easy and seats that are easily detached.
One method uses only one strap (seats not easy to detach) and the other method uses both straps.
Seats that can't be easily detached method
This method will only require that you use one strap.
Put your Airhawk on the seat.
Fasten one end of the strap hook to the front seat cover loop.
Take the other strap hook and fasten it to the other front seat cover loop.
Now just slide the strap between the front of the seat and the motorcycle.
Easily detached motorcycle seat method
You'll need both of the included straps to use this method.
Remove the seat from your motorcycle.
Put the Airhawk cushion on the motorcycle seat.
Fasten one end of the strap hooks to one of the back (or rear) seat cover loops.
Wrap the strap under the seat and fasten the hook to a seat cover loop on the front of the opposite side.
Repeat for the other strap. The straps should overlap and form an 'X' under your seat.
You may need to adjust the slide buckle for strap length before you put the seat back on.
Put the seat on and roll!
Airhawk seat pad replacement and warranty
According to Airhawks website, they warranty their seat covers for 6 months from the date of purchase. You'll need to provide proof of purchase and fill out some paperwork to get the ball rolling. You can read Airhawk's full warranty policy
here.
Road testing the Airhawk
I tested the Airhawk for a couple days after getting it, to decide if I was going to keep it or not.
I tested it in two basic scenarios;
Around town riding in stop and go traffic, making frequent turns and just general traffic conditions.
Taking it out onto the highway riding for straight cruising. For me, it doesn't take long to feel things in my rear end and lower back to start to get fidgety. Usually about 30 to 45 minutes or so, it depends.
As far as weather, I had a nice day – partly cloudy and 70 which was nice. Unfortunately had some winds to deal with, which didn't thrill me.
Before I started the Airhawk test ride
Before I got started, I inflated the Airhawk as full as I my lungs would allow. I made sure the cap was screwed on good and tight so that I wouldn't have an air leak from the inflation stem.
I'm sure it will depend on who you are, but I'm in good health and I can't blow the bladder cell to the point of being rock hard (which you wouldn't want to do anyway). However, I was able to get a good amount of air into it and get it firm and ready for my ride.
I decided to not use the included straps to mount it on to my bike. I just put the Airhawk right on top of my seat making sure that I put the rubberized non skid towards the seat.
I ride a Goldwing gl1800 and dealing with the seat is a pain, so I just decided to be lazy. I also wanted to see if the seat would move around much under normal riding conditions.
Things I looked for during the ride
How my butt felt on the stock seat vs using the Airhawk and overall comfort level.
Air loss of the seat cushion during the ride.
Did the cushion slide around on the seat without using straps?
Did it change my 'feel' of the motorcycle while I was riding?
My overall comfort level with the Airhawk
I started by leaving my house and headed up to gas station, which was a short ride. After putting on some fuel, I headed straight up the highway (after a bit of town riding).
Using the Airhawk was an immediate improvement over sitting on my stock seat. Before getting out onto the highway, it took a bit of adjustment to get the pad located on my seat where I wanted it.
Too far forward – felt like it wasn't doing its job.
Too far back – It felt like I was just not centered on the cushion and that I wasn't on it.
After a couple of stops I found my 'goldilocks zone' and headed up the highway. I rode about 50 minutes one way up the highway and enjoyed the scenery.
The Airhawk made the ride seem like butter, without some of my usual pressure points starting to bother me on my seat. Overall, I enjoyed the ride up and back and even forgot I was even sitting on the pad a couple of times.
I did remove the pad and put it in the trunk and rode a stretch on my stock seat. It was a noticeable difference and I stopped after about 5 miles and put the pad back on.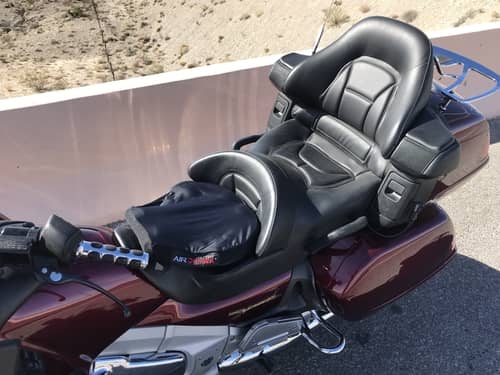 Was there any air loss?
Because I had forgotten that the seat cushion was there a couple of times, I started to wonder if maybe the cushion lost air.
I pulled onto an overpass and did a 'feel test' of the cushion. It seemed to feel as firm as it did when I left the house. I then unzipped the back of the seat cover and found the inflation stem and tried to add a puff of air into the bladder.
The good news?
I couldn't get anymore air into the bladder cell(s) which meant that there was no air loss so far in the ride.
I checked it again when I returned back to my house (about an hour from the first check) and the seat cushion was good to go.
Airhawk seat cushion securement
As I mentioned earlier, I didn't use the provided straps to secure the pad to my motorcycle. I had no issues with the seat pad moving in normal traffic conditions and out on the highway. The non skid that they use does a good job of keeping it in place.
This includes having to do a sudden stop because of a jerk in front of me. The cushion stayed put.
Did the Airhawk change my 'feel' of the motorcycle?
While doing some reading about the Airhawk motorcycle cushion, riders that had used it mentioned that it changed their feel of their motorcycle's handling. This in turn seemed to change how they were riding.
This is because the pad ads some extra height and their butts weren't directly on the motorcycle seat.
So, does it change your 'feel'?
The Airhawk seat pad will add some extra height. While I was riding I definitely could tell I was sitting a bit higher.
Because of the reading I had done about this happening, I was on guard with whole 'changed my feel and how I handled my bike' that people were talking about.
As far as changing my feel or connection to the bike, not so much. It did make me feel different for a bit, but once I was on the road and I was able to settle in. Just like anything that's new, I just needed to get accustomed to it.
Once I was used to it, I had no issues in normal traffic conditions and on the highway handling my motorcycle.
Is the Airhawk the best motorcycle seat pad for long rides?
While I haven't tried everything, I have tried a number of gel seat pads over the years in an attempt to keep from spending big money on a custom seat. But finding the best motorcycle seat pad for long rides can be a bit subjective.
Gel seat pads for me just were never comfortable, but they might work for your.
I've used the beaded seat covers in vehicles but not on a motorcycle. Based on that experience, (which wasn't good) I would never use a beaded cover on a motorcycle.
The Airhawk (to me) is superior in comfort to gel or wood beads.
Airhawk Motorcycle Seat Cushion Questions
Q: Will this seat cushion make you sit higher in the seat?
A: Yes it will depending on how much air you put in it. I would estimate at least a half inch minimum.
Q: Do you get any extra seat covers?
A: No. The Airhawk comes with one seat cover per motorcycle seat cushion, but you can order more through Airhawk.
Q: What Does the Airhawk com with in the box?
A: You get the seat cover (like you see in the pictures), the inflatable air cell pad, and 2 straps to attach the seat to your motorcycle.
Conclusion
The Airhawk R Cruiser Seat Pad is comfortable and easy to use. I had no problems with on my test ride and didn't experience things that some riders have discussed online. It's a good solution to get the best comfort without spending ridiculous money on a custom seat.
Having tried a variety of gel seat cushions in the past, I think it's best motorcycle seat pad for long rides. The next step up would be to go ahead and just purchase a custom seat.
If you're looking for a reasonably priced solution, grab yourself the Airhawk R cruiser seat cushion
.