We're an Affiliate. If you use our partner links we earn a commsission at no extra cost to you. Thank you for your support! Read the full disclosure here.
Got a V-twin cruiser and looking for a great tool bag? VikingBags front fork tool bag is the roomy and affordable accessory you're looking for.
If you're riding a V-twin or you've got a buddy who rides this type of cruiser chances are you very familiar with tool pouches that are often used with these type of bikes.
Also known as tools bags, these bags are typically mounted to the front forks of the cruiser, usually just below the headlamp. Other locations where these pouches or bags can be mounted include the back sissy bar, luggage racks or on the bikes crash bars.
What are they good for? Putting stuff in of course. As any motorcyclist who travels will tell you, you can never have too many places on your motorcycle to stash your stuff. The trick many times is to balance functionality with aesthetics.
When it comes to putting extra stuff on my motorcycle, I tend to be a minimalist. That's also what I like about this particular tools bag; It's got simple old school design without getting crazy with all the bling.
For me anyway, there's just enough chrome on the buckles to dress it up without the bag looking like cheap wanna be dime store biker gear.
A quick Notice…
Viking Bags was nice enough to send me this tool bag to review for them. That said, my goal is to provide you an honest review of their product. I'm actually a little disappointed I can't use tool bag because I ride a Goldwing. You V-twin guys and gals will love this tool bag for your motorcycle.
However, if you sign up to my email list you'll get an opportunity to win the tool bag and other cool stuff.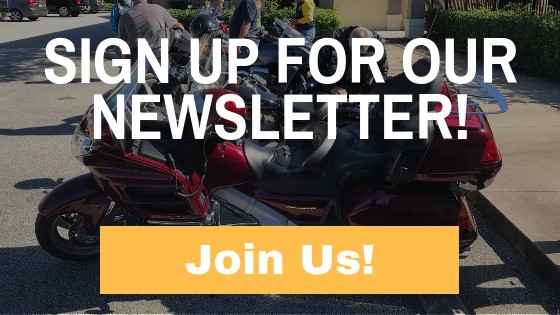 Viking Bags Armor Plain Motorcycle Tool Bag Review

Viking Bags plain motorcycle tool bag is a big enough size that will not only hold or store what you need to take with you, but it looks good to.
This tool bag has a straightforward rectangular shape and is a pretty decent size (it's a medium sized bag) with plenty of storage. The bag measures 9 ¾ inches in length, is about 3.5 inches wide and about 5 inches deep.
That's a lot of space to put assorted tools and wide range of other items that you might need in a pinch.
The tool bag is large enough take extra gear with you, but not so big as to take away from how the looks. It's really in a nice 'goldilocks' zone – big enough to hold stuff but not so big that it would look dumb sticking out each side of the bike.
Tool Bag Quality
This bag is a straight up high a quality leather bag. No Pleather or some other kind of weird plastic fake leather. The video on Viking Bags website says something to the effect "Thick multi layered cowhide leather". This folks, is exactly what you're getting.
Some portions of the interior of the bag have a fabric lining certain area which is what you'd expect to see associated with an all leather product.
The stitching on the bag is really well done and tight. It's a single row style that keeps the bag held together well without taking away from the looks of the bag.
Front of the Tool Bag and Closures
The front of the tool bag features metal chrome styled buckles (not cheap plastic) that are part of the quick release straps to open the front flap. Viking Bags website indicates that these are stainless steel buckles.
I have no trouble believing it, as these buckles are definitely metal and seem pretty stout.
The front flap of the bag is secured with leather straps that snap into place with plastic quick release buckles. These quick release snaps or buckles are a thicker plastic 'squeeze' type quick release like you would find on other types of motorcycle gear.
All of the plastic components on this bag don't appear to be too cheap and look like they can take some punishment. Within reason of course, just like your other equipment.
The bottom line with this tool bag is that it's a quality leather product that's built last. You'll be able to travel with it for years to come.
Securing The Tool Bag to Your Motorcycle
Viking Bags armor motorcycle tool bag is secured with two nylon straps that wrap around whatever part or component of the motorcycle your trying to secure it to.
You'll have to un-thread the straps from the plastic 'D' rings to get it secured. Then wrap the straps over, through around (or whatever) and re-thread the straps back through the rings.
Although the plastic D rings are a high quality plastic, this is one area of the bag I'm lukewarm on. Personally, I would prefer to have these rings be metal.
They've given you plenty of strap length to accomplish this task, in fact you'll probably have extra strap left over that you'll need to secure. I keep black plastic zip ties on hand for such occasions. You don't want the extra nylon strap length flapping in the breeze scuffing your paint.
Viking Bags has provided plenty of length to secure the bag with. Typically this either the top of the handlebar/triple tree area (if your mounting it on front of course) or the dashboard inside the windscreen. However, this tool bag would be a little too big and awkward to mount on a dash.
Straps can either be vertically in dual fashion or you can use one strap to mount the tool bag horizontally.
Ride Testing
Normally, I like to ride test gear to see how it's going to work for me out on the road. But let's be real here – I have a Goldwing and this just isn't going to look too hot mounted on the front my bike. It'd be like putting maple syrup on a steak.
However, when I had my VTX back in the day (I miss that bike sometimes), this tool bag would have been a great addition to that motorcycle.
Features of the Tool Bag
Multi layered high quality cowhide leather
Quick release Plastic buckles for easy access to your goodies
High quality stitching throughout the tool bag
Weather Resistant
Chrome stainless steel front buckles
Plastic reinforced body
Durability
The Pros of VikingBags Armor Plain Tool Bag
Good quality leather
It's a nice bag for the money you'll pay
The bag looks like it can take some punishment and is built to last
For a medium sized bag, you'll be able to fit a fair amount of items in it
Easy mounting – use the straps to mount vertically or horizontally
Quick connect buckles
The bag is sturdy but light
Great looking tool bag
Some Disadvantages
Just like a lot of tool bags similar to this one, there's no real way to lock the tool bag.
I'd like to see metal D rings for mounting instead of plastic.
Reminder: This tool bag is real leather which requires some basic maintenance to keep it looking and performing at it's best. If you need some basic tips on leather you can find a few in our 'How to clean a leather jacket in a washing machine' article. The same suggestions on taking care of leather jackets will work fine for this motorcycle tool bag.
Review Conclusion
Overall, VikingBags armor motorcycle tool bag is a really nice piece to add to your bike. If your looking for that little something to add to your motorcycle that gives it just a few more cubic inches of storage and you want it to last, you'll want to check one of these bags.
You can check out the tool bag this link will take you to VikingBags. You can also check out VikingBags other tool bags here.