We're an Affiliate. If you use our partner links we earn a commsission at no extra cost to you. Thank you for your support! Read the full disclosure here.
In the market for a genuine cowhide leather vest that won't kill your wallet? We review the Viking Cycle gardar leather motorcycle vest and give you the lowdown.
Viking Cycle Leather Motorcycle Vest: The Skinny
Genuine Cowhide Leather
Steel snaps
Internal storage for glasses, wallet and concealed carry
Headphone loops
Multiple internal pockets
If you ride, you know;
Having a quality leather vest is really a must have. Leather vests are a great way to keep you protected and beat back the weather (both the cold and the heat) if you use them right.
As you may have noticed in other articles on the site, I ride in the heat a lot even when its probably too hot to ride a motorcycle. Because I bike in the heat I tend to wear my leather vest more for local rides so I can 'dress down a bit. I can wear a nice breathable long sleeve shirt and throw the vest on over the top for some protection.
Conversely, when it's cold I like to put my vest on underneath my mesh jacket to dress in layers and help keep me warm. Besides, we need a place to put all the cool patches we collect when we ride! What was most impressive to me was the amount of storage (pockets) this vest has. Let's face it- You can't have too much storage and places to put stuff when you're riding.
In the interest of full disclosure, Viking Cycle was nice enough to send me this vest for review and I was able to get a nice up close look at the vest and its construction. The only bummer was that they sent me a small and I'm too fat to ride test it!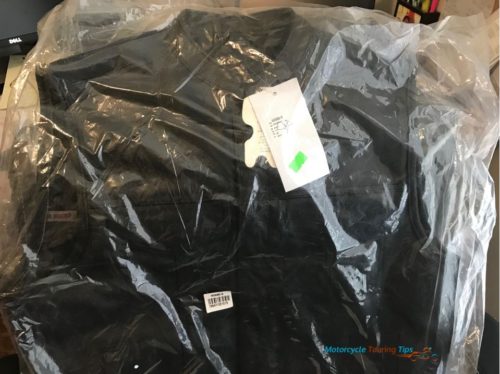 What I Liked About This Leather Vest

This vest by Viking Cycle looks good, and it feels good too.
It sounds silly to make a big deal of this but;
Just like you see on their website (and the pictures I took) this is an actual leather vest. I've purchased cheap vests in the past that appeared to be leather, but really weren't and it wasn't pointed out in their ad.  Disappointing.
Riders like leather gear because it's got the classic biker feel, it protects you, and if you take care of it by washing it (yes, you can clean leather in a washing machine when you do it right), leather is extremely durable and will last you for years.
If you're looking for good leather motorcycle vest with lots of places to put stuff, that fits comfortably, you won't be disappointed.
Let's talk about its construction.
The vest is advertised as 100% leather cow hide and your getting exactly that. Viking Cycle makes a big deal of the fact that this is real leather on their website and they should. It's easy to get burned these days buying a fake leather product (I've been burned myself). I'm happy to report that you're getting the real deal here.
Inside the vest features a softer nylon liner for comfort, just like you would see on just about any other vest.
Seams and Stitching
The seams are stitched nice and tight and hold the various pieces of the vest together tight with no loose threads. I even picked at various locations with my fingernails and yanked on the seam to see if I could rip easily. Couldn't really slip a fingernail into seam to separate the leather.
The short answer? Nope, no tears and no 'give' to the seams. The stitching and seams feel well done and road worthy.
The seams are stitched good and tight just what you'd expect for a roadworthy motorcycle vest
The Collar area
This vest is has a collar that's styled like a lot of motorcycle jackets and other gear, which can be a good or a bad thing depending on what you like. The collar fits snugly pretty high on the neck typical of any motorcycle jacket and other apparel. The collar is constructed of two pieces of leather sewn back to back which makes this area pretty stout.
On the vest I was provided there weren't any hard edges that I could see that would be irritating for long periods during a ride.  With this type of neckline in any piece of gear, you'll want to pay attention to how it's going to rub on the skin under riding conditions.
The Buttons
The vest fastens to itself with steel buttons, no zippers. One thing I did do was pay close attention to a couple of things:
Were the buttons made of cheap metal
How secure the buttons were sewn in.
The buttons seemed to be sturdy and not a cheap costume style button or made with cheap metal. There was a coating of paint over the snaps that made it difficult to snap/unsnap at first, but this is just from the vest being new and will wear off from normal use just like any other vest.
The buttons that keep your vest closed are inside a leather strip which helps keep them protected and gives you a cleaner look, which I prefer.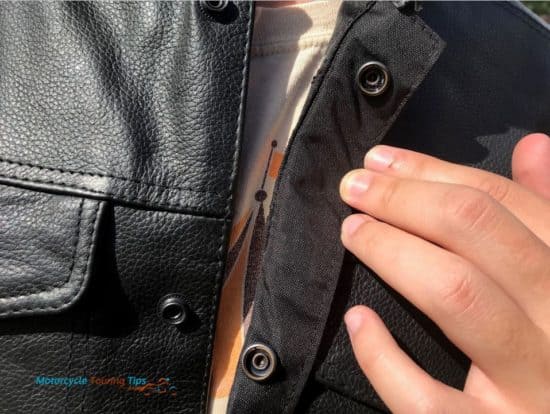 A Place for Your Stuff – Pockets
Need places to put stuff when you ride? There is no shortage of pockets with this vest. This vest has a lot of storage, but some of the pockets are deeper than others.
The amount of pockets and storage on this vest is really one of the vests features.
With all those pockets comes a lot of storage space, and I was able to easily fit phone, wallet, and keys in JUST one of the inside pockets which means you'll have plenty of room to hold or carry whatever else you need to bring with you on your rides.
The external and internal pockets have either buttons or zippers to keep them closed so they can keep everything inside safe. The zippers area a good quality just like the front button and shouldn't give you any grief.
The front pockets on the vest feature sturdy velcro to keep flaps secured.
My only real gripe about some of the pockets on the inside of the vest are a bit too narrow to fit common items in. But any storage is better than no storage when your riding.
The external pockets (the two breast and side pockets) are on the shallow side, which actually isn't a bad thing. Having shallow pockets in these areas is preferable if your going to reach for something while your riding, which lessons the time your fumbling around. Keep your hands on the handlebars kids.
Getting the right size
This vest tends to fit the wearer pretty snug. That said, make sure allow room when your sizing this vest for thicker clothing like a hoodie or light jacket. If that's the way you roll, you may want to allow yourself about a half inch or so of space to allow the extra clothing.
Viking Cycle's website features a nice sizing chart to help you select the size of leather vest you need and shows you how to measure properly which is really helpful.
What I'm not So Sure About
Here's the thing;
My issues with the vest weren't really about how well built vest is so much as things that are impractical and style oriented for ME and how I ride. Your mileage may vary as they say.
That said, here's what I was lukewarm about.
The vest has a headphone wire system so it's easy to stay alerted to things happening on your phone if your still using wired headphones. The system actually is put together well with rubber grommets to help keep moisture out of the interior of the vest.
Now, this may be something other riders find as a plus and really like about the vest, but I don't really see myself on a ride with my headphones in, I think that's a safety issue.
I'm not saying it's wrong, but it's never seemed like a great idea to me to ride with headphones in all the time. Yes I know, helmets are built with sound systems which is topic for another discussion.
So I don't ever really see myself using the headphone loops and wire system.
Although the collar area is well constructed, the style of the collar isn't for me. I prefer a more classic design and this style is a bit more contemporary. Of course, this is purely a personal taste issue but is also my biggest hangup with the vest.
The vest I got sent was a size too small which made it a bit of an issue for me to wear so I really wasn't able to ride test it as I had planned on which was a bummer. I like to see how gear does while riding.
What I've seen of the vest, and what I've felt and looked over leaves me with pretty good overall feelings about the product.
The Price is Right
Other retailers charge stupid money for quality leather products.
$200+ for a leather vest? Really?
A general perk of the vest and the buying experience on Viking Cycle's website is the price. It's riced right in line with a lot of  other good products, so you don't have to sweat the sticker shock.
This vest is very affordable coming in right at 60 bucks, and their store's webpage has a sizing chart with the product's measurement and actual chest measurements underneath so you can make sure you're buying the right size.
With this pricing it means you can actually afford a quality leather riding product that's not going make your wallet scream bloody murder.
Viking Cycle does have a 30 day return policy so if you find something doesn't fit exactly right you'll be able to get return it or exchange it.
Viking Cycle does have a good return policy and as long as you don't damage the vest you shouldn't have any trouble. Just send them an email and an order number to get the process started.
The Bottom Line…
Overall the vest is well built, it features plenty of pocket space, it has plenty of ways to keep what's in your pockets where it belongs, it feels nice, isn't too heavy for leather gear, and it'll keep you looking good and provide some protection if you want to dress down a bit for your ride.
If you're in the market for an affordable, genuine cow hide, good looking leather vest then you're definitely going to want to check out Viking Cycle's Gardar Leather Motorcycle Vest.
You can grab your vest at Viking Cycles online store through these links:
Click this link for the U.S. store
In the UK? check out This Link
Australia, Click here