We're an Affiliate. If you use our partner links we earn a commsission at no extra cost to you. Thank you for your support! Read the full disclosure here.
So you wanted an affordable Harley alternative? Victory was the choice for getting American V-twin power without the massive price tag. No more.
It came as no surprise to a lot of people when Polaris (Victory parent company) announced in January of 2017 that they would kill off the Victory motorcycle brand.
Polaris, who also manufactures a variety of other power sport products and brands (Indian, Slingshot, RZR) decided that sales had slumped to the point that they were unable to turn a profit with the bikes.
Why Victory Motorcycle Failed; Post Mortem
Polaris didn't come right out and say it, but it's been noted that some have stated off the record that Victory had only accounted for approximately 3 percent of revenue for Polaris in 2015 after 18 years. Indian and Slingshot for about 12
percent or so the same year.
In the years that Victory was around it just never seemed to get any traction (quite frankly, I've never seen too many of the bikes on the road near me) and having it compete with the Indian brand was no help.
It's been pointed out by many that Polaris' failure to market effectively, the competition of overseas bikes and developing 60 different models at once (that many models to support can suck up a lot of resources) and Polaris purchase of the Indian brand contributed to the death of Victory motorcycles.
But let's not forget one simple thing;
They just weren't selling. Everyone wanted an Indian.
If you can read between the lines, is pretty much what Polaris said in their press release. You can read the full statement here.
"Several factors influenced today's announcement. Victory has struggled to establish the market share needed to succeed and be profitable. The competitive pressures of a challenging motorcycle market have increased the headwinds for the brand. Given the significant additional investments required for Victory to launch new global platforms that meet changing consumer preferences, and considering the strong performance and growth potential of Indian Motorcycle, the decision to more narrowly focus Polaris' energy and investments became quite clear."
This tells me that Polaris was just done with the brand as a whole, and wanted to just focus on Indian and the ever growing in popularity, the Slingshot.
Fans of the bikes would've like to see Polaris keep the brand and just pair it down to just a few models (Vision, Magnum, Cross Country, Vegas for example) and focus there. This gives people more options to choose an Indian (for its classic design) versus a Victory, known for its more futuristic and modern designs.
Many understand the need to cut costs, but criticize Polaris for mismanagement and setting up the brand for failure.
Some of the complaints about the bike by those who ride the Victory:
People that were drawn to the Harley rumble sound didn't have any choices. Selling upgraded mufflers could've provided more sales/revenue.
Some models should've come with a backrest for a passenger (They're looking at you Magnum) and didn't. How are you supposed to bring the 'ol lady with you?
Paint colors and graphics; Victory got carried away with many of their paint schemes, when most people just want simple and glossy.
Many Victory owner felt that if Polaris would have address those concerns (at a minimum) the brand could have been saved.
These were just some of the issues that Victory riders saw coming, but were never addressed by Polaris.
A long ride to the bottom
It's been talked about in several circles;
The beginning of the end for Victory started back in 2011 when Polaris acquired Indian motorcycles. It only took a few years for Indian to outperform Victory in brand growth and it's potential to turn a profit.
Plus Indian bikes just had the look that people liked; Old school traditional styling. Once Polaris bought the Indian brand, it sealed the fate of Victory.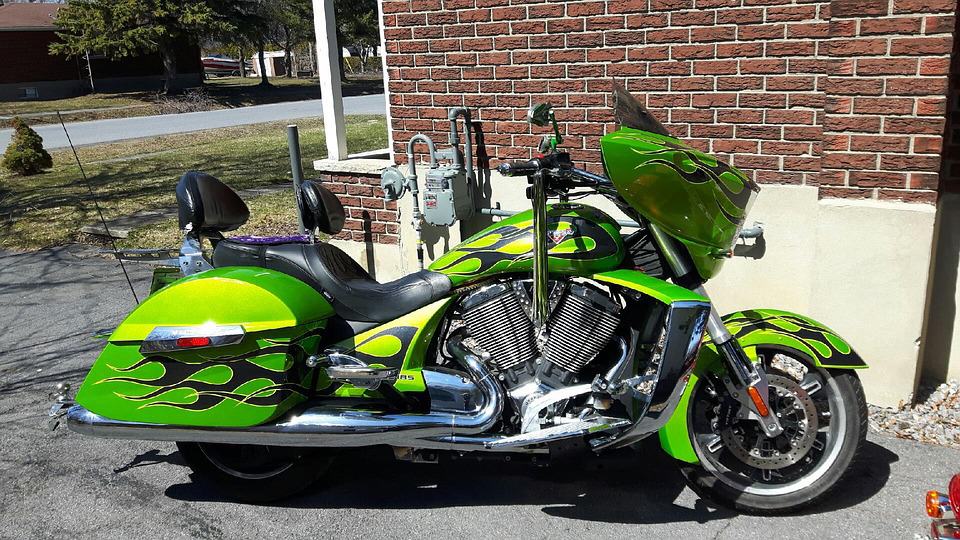 When was Victory motorcycles started?
Polaris commissioned market research in 1994 that showed that there was room in the marketplace that could allow another American manufacturer (besides Harley).
In 1997 Polaris launched the V92 was launched with great fanfare, and the Victory brand was born. The Victory brand went on to produce 60 different models.
Motorcycle sales in 1998 were off the chart, with Harley experiencing record sales and having a hard time filling the orders. After getting the market data they were looking for, Polaris launched Victory as a lower cost U.S. made alternative.
My Experience With Victory
My experience with Victory overall is pretty limited to seeing the bike and sitting on a Vision several years ago and speaking with Victory owners. I will say that all of the owners I spoke to liked their bikes.
I remember when victory came on to the market back 1998. Like a lot of people, I wanted a Harley but really couldn't afford to;
Buy the Harley of my choice (The Road King)
The cost of ownership; Harleys can be expensive to maintain. A lot of Harley owners will joke that 'HD' stands for "Hundred Dollars" not Harley Davidson – Because you were going to spend at least a hundred dollars anytime you needed to have work done or purchase an after market accessory or part.
These reasons were why Victory motorcycles were produced in the first place.
The Victory motorcycle always seemed that it was more of an attainable goal; Get an American made motorcycle but not spend the amount of money demanded for a Harley. They had the additional perk of looking modern or like a modern take on a classic look.
For me though, some of their designs seemed cool, others ok. The Victory 'Vision' (which rolled off the assembly line around 2008) cruiser was a bike that I like from the front but not from the rear. But then again, sometimes it depended on what day I was looking at it.
The Vision was one of the V-twin cruisers that offered something that was unique in design (a futuristic looking bike).
A brush with Victory
Flash forward to just a few years ago, I'm on the hunt to get myself a good used bike.
I happened to be driving around town and spotted a Victory Magnum with a for sale sign, so I stopped to take a close look. The bike was nice, but as I wrote about previously in this article there was no back rest. I just assumed I could get something aftermarket for it.
When I look at used bikes, I do what I always do;
Consult my buddy the mechanic, who has forgotten more than most people know when it comes to all things motorcycle.
He promptly advised me to avoid the bike due to how difficult it can be to work on the bike if it has electrical issues (which apparently does happen with the bike from time to time).
Should I buy a victory motorcycle?
The tone of this article overall has been on the negative side (Victory owners are angry at Polaris management) towards the bike and was really not intended to be a review of Victory motorcycles or come off negative against the bike itself. Again, my experience and interaction this motorcycle has been limited.
But like I also said before;
Everyone that I came into contact with personally liked their Victory. Specifically, one guy who owned a Vision and several who have had the Magnum.
So now we're back to the original question;
Should you buy a Victory motorcycle, especially now that they've been discontinued?
Whether or not you should purchase a Victory motorcycle at this point really depends on the kind of rider that you are, mechanical abilities, cash you have and patience.
Nothing against Victory but…
My take is simple, based on experience;
If you're a beginner think twice, you're may be getting more than you bargained for. Even if you buy a brand new motorcycle. Parts will become limited over time and selling the bike may become difficult.
I don't know about you, but for me the answer is no. It's not because of Victory motorcycles specifically, but the situation.
I've already had experience dealing with a specific motorcycle that I was able to acquire for cheap and had been discontinued for years (Suzuki VX800, God rest its soul).
The bike needed a lot of work (which I knew) but what I didn't realize was that the bike had been discontinued by Suzuki years ago. I wound up spending a lot of time, effort and cash trying to get the bike to run.
All I wanted to do was ride and now I had a headache.
Getting the bike to run was easy. Finding the parts to accomplish the task turned out to be a ginormous nightmare.
So it will be with you, if you are a beginner trying to deal with a discontinued motorcycle brand or model.
If you're a new rider be careful
Here's the point;
The point is that if you're new riding motorcycles, and don't have much in the way of resources personally and financially to deal with a discontinued Victory (or any other bike for that matter) you should steer clear.
However, if you have been around motorcycles for a while and have the personal resources available to you to deal with a Victory, it might be a good choice for you.
Just evaluate your experience and keep in mind the long run cost of maintain the bike or whether or not you can sell it.
Will Victory Motorcycles Be Missed?
By the people that purchased their bikes and love them, they will. I think what many people are disappointed in (and will miss) is the opportunity to have a cool modern looking V-twin that doesn't drain the bank account like a Harley.
Here are just a few things that people are going to miss about Victory motorcycles:
An affordable bobber style motorcycle. Victory's Octane was considered by many to be a great deal, coming in at just under $11,000.
Excellent brakes. Victory motorcycles by all accounts seem to have some of the best brakes available on motorcycles generally.
Modern or Futuristic styling. One thing about a Victory, you know when you see it because it looks just a bit different. Some of the designs (at least for me) are either a 'love it' or 'hate it' without much in between.
Competition with Harley. As I've said earlier, Victory was looked at as an affordable alternative to Harley if you wanted an American made V-twin. This is arguably one of the biggest disappointments with the failure of Victory motorcycles.
Superior rear suspension. It's been noted Victory had been able to get their bikes lower without sacrificing performance, handling and comfort.
Will Victory Motorcycles be supported?
As it stands now, Victory dealerships will liquidate their current stock and Polaris has stated that they will continue to provide parts for up to 10 years.
The trick for many will be to find a Victory dealer in your area, as many closed up shop as soon as Polaris shut the Victory brand down.
I checked my local area and the local Victory/Indian dealer and at this time, they're still selling Victory motorcycles. A reduced price but still selling them.
Conclusion
As it stands now, Polaris will focus it's efforts on the Indian motorcycle brand, Slingshot and it's off road vehicles.
Why did Victory motorcycles fail? A lot of different people have different opinions. From marketing to mismanagement, but at the end of the day the reason was pure numbers. They just weren't selling enough bikes to warrant the continuation of the brand.